Effie Trinket Costume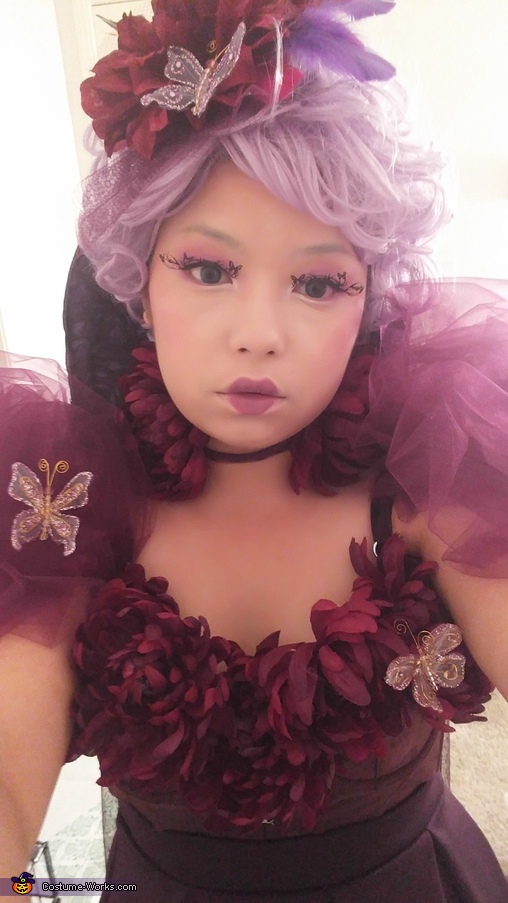 Effie Trinket Costume
More views:
(click to enlarge)
A word from Ta, the 'Effie Trinket' costume creator:
Hey everyone! This is my Halloween costume for 2015. I am dresses up as Effie Trinket from the popular book and film, Hunger Games. Costumes these days are expensive and the quality is not worth the money you pay for, but even with that said I did spend $57 on my DIY costume, but it has quality, it's defitnetly unique, custom made and I had tons of fun making it. I spent a total of 6 hours making my costume and it was totally worth it. I am very satisfied with how it turned outand would love to share it with you.

Things I bought online:
The wig=$10.
The purple bralette=$8
The skirt=$7

The cape:
The cape collar was made from interfacing fabric ($3) and sewed a piece of purple floral pattern fabric ($1) over the interfacing. The cape itself was made with a pattern chiffon that I bought 2yrds for $4. Then I sewed the two pieces together and added straps with the extra chiffon that I had left over.

The puffy shoulder pads:
The puff on the sleeves were made from solid purple tulle. I got 2yrds for $4, which I just scrunched up into a ball and sewed the center for the puffiness. Then I sewed it to the straps of the bralette.

Fascinator:
I made the floral fascinator with a big purple flower that I bought for $2 and accented it with left over chiffon, purple feathers ($1) and butterflies ($4). I hot glued everything together and used bobby pins to make it stay on the wig.

Necklace:
The necklace was made from left over chiffon and flowers that I had. I hot glued the flowers onto a string of chiffon and tied around my neck.

The top:
I bought a stem of fake flowers for $3 and hot glued it onto the bralette. I also glued on some butterflies that I had left over.

Add ons (optional):
I added on the lace stockings that I bought for $5 and used a pair of dark blue gloves I found in my closet.

Makeup:
The makeup was easier than what I imagined. I used the palest foundation and concealer for my face and covered my eyebrows and lips. Then applied on purple and pink eyeshadow on my eyes. I used false butterfly lashes that I bought for $5. Then I lined my bottom lash line with white liner and applied the same purpke eyeshadow on the bottom as well. I also used purple eyeshadow for my cheeks as well. Then finished off with purple lipstick on my lips.

Tips to lower the cost:
Use a purple top and skirt that you may already have in your closet. Look for items at your craft store that usually offers coupons on your purchases

Vote for me if you love my look. Thank you!