Despicable Me Family Costume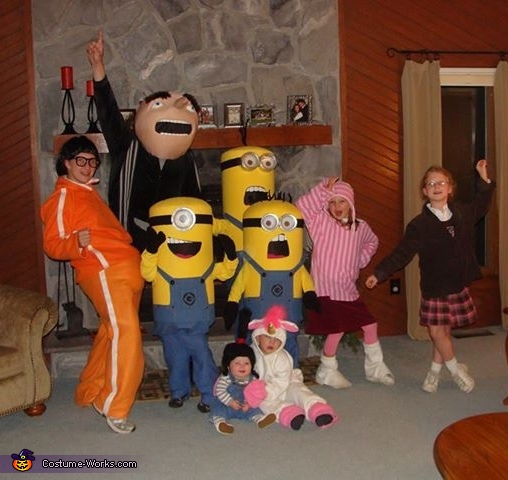 Davis' do Despicable Me
More views:
(click to enlarge)
A word from Aubrey and Shaun, the 'Despicable Me Family' costume creators:
Our family tries to do a group themed costume every year. Since, we are a large family, it can be a challenge. This year, we voted on Despicable ME.
My husband Shaun is wearing a Gru mask we made out of paper mache and covered in fabric. I am Vector. Made the suit with fleece add the wig and glasses. Sophia is Margo with clothes we either had or got at Goodwill. Addison is Edith, we made the shirt, the hat and shoe covers, had the skirt and leggings already. Agnes is our baby Kate, we made her wig out of two beards, hot glued to a baby hat and hair sprayed to keep it up. Jack, Charlie and Tom are our Minions, we started with a concrete forming tube, cut holes for arms and mouth and covered them with fleece. The Minions can see out of the mouths, which were covered in a see through fabric. Andrew our 2 year old would Not wear a minion so he got to be the Fluffy Unicorn. The base is made of fleece with a hood and covered with pink fluff, made pink hand covers and foot covers, the horn is newspaper wrapped in gold fabric. We put a lot of time into this costume and were thrilled with how they turned out. Hope you enjoy them as much as we have!