Cruella and one of the 101 Dalmatians Couples Costume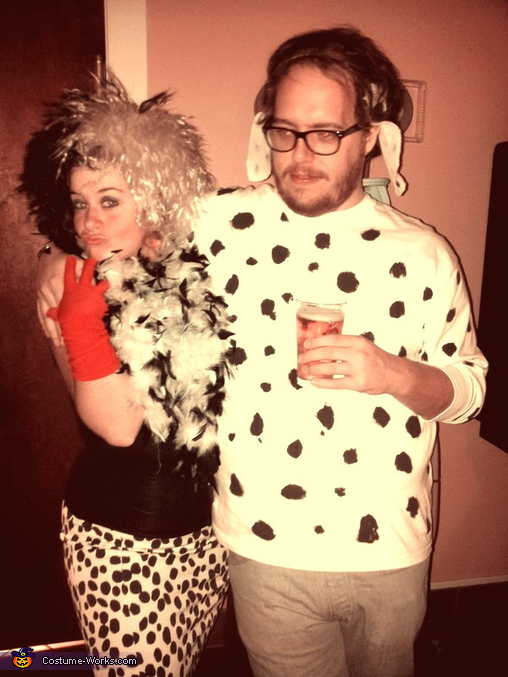 This is Halloween!
A word from Melinda, the 'Cruella and one of the 101 Dalmatians' costume creator:
This is what my boyfriend and I dressed up as this year - I was Cruella De Vil and he was a dalmatian! This is mostly a DIY costume idea, and we had a lot of fun creating it.
You will see Tom, on the right, dressed as a dalmation - he simply painted a long sleved white shirt, with black spots. Cheap black acryclic paint will work just fine - this can be purchased for less than $1 at craft stores, or stores like Walmart and Target. For the dalmatian ears, he cut white felt and painted black acrylic spots on the cut outs as well. White felt can also be purchased just about anywhere, for super cheap.
Now for my costume! I did order the wig and gloves on Amazon, however I was able to use an old black tank top I already had. In addition, I found the dalmatian print skirt at H&M for about $18. It's good to seek out a similar print so you can accentuate your own style without having to buy an actual costume. Last, I was lucky enough to find the feather boa at the Goodwill!
Well, here you go! We hope your Halloween is quite the dalmatian sensation!