DIY Corpse Bride Costume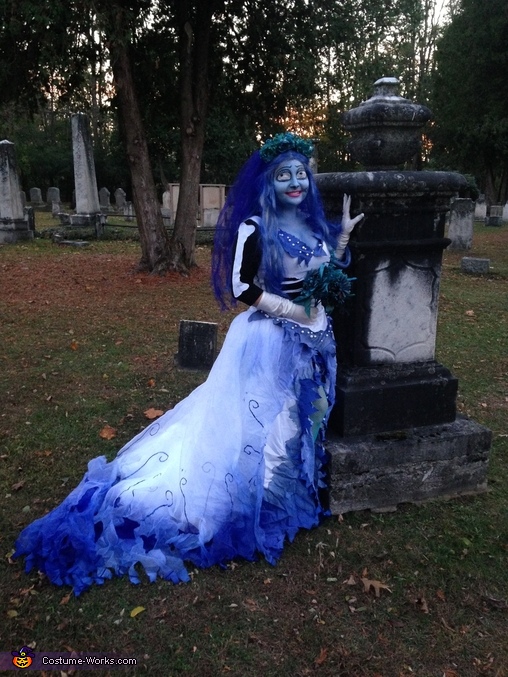 Corpse Bride
More views:
(click to enlarge)
A word from Rachel, the 'Corpse Bride' costume creator:
My name is Rachel and I was Emily from Tim Burton's movie "Corpse Bride" for Halloween. I am a huge fan of Tim Burton's movies and "Corpse Bride" is one of my favorites!! From the moment I watched this movie years ago, I knew I wanted to be Emily for Halloween and this year I made my dream a reality!

I began looking for items to create this costume over a year ago...the hardest thing to find was the wedding dress. After looking for a wedding dress all year, I had given up hope of finding one and almost decided to do something else for my Halloween costume. I had kept my boyfriend's mom in the loop about my search for a wedding dress for my costume and in September she came home from a thrift store with a wedding dress! It was exactly what I had been looking for and had a long train in the back, just like Emily had on her wedding dress. Unfortunately, the wedding dress was not zippering all the way up in the back, so I took out the sides and put holes up both sides of the dress and put lace through the holes to tie.

I then cut, frayed and layered the bottom of the dress from the back to the front. This gave the dress the look of it being torn and ripped. I also cut holes into the bottom of the dress, just as Emily has on her dress. I cut a large slit in the front of the dress and frayed this material as well. I also cut the material on the front of the dress to create a heart shaped neckline.

I took two of my brother's older hoodies, one white and one black, and one of my older black tops to create the bone parts for my costume. I used the white material to cut out shapes to make rib bones and humerus bones. I used the black material to cut out a rib cage area. I then glued the humerus bones onto my old black top and the rib bones onto the rib cage area. I used some more of the white material to glue around the black rib cage area to create the effect of the ribs popping out of the wedding dress.

I spent four separate nights dying this dress. I had to section off and dye each part of the dress; the bottom/back, bottom/left side, bottom/right side, and the area around the slit in the front. This was my first time dying material and the blue color came out so vivid! I also dyed a veil that I had got at a thrift store last year when I began my search to be Emily. I also dyed some scrap material that I had cut from the dress to use for other parts of the dress.

I used a royal blue material around the slit area in the front of the dress to intensify the blue in this area. I frayed and glued this material on. I then took the extra material I had dyed blue and attached it to the heart shaped neckline and at the waist of the dress. I had some white beads that I attached to the blue neckline and waist material.

I used blue glittery glue to draw swirls on the veil all along the bottom and sides. I used "Island Blue" puffy paint to draw all the swirls along the bottom/back, bottom/sides and front of the wedding dress.

I had purchased a long blonde wig after Halloween a few years back with the intention of using it for Emily's long blue hair. I had also bought four cans of blue hair spray after last Halloween to spray on the hair.

I got a flower bouquet and a floral wreath piece at a thrift store over a year ago for this costume and spray painted them both with about five layers of "Sky Blue" spray paint. I was unsure about this shade of blue spray paint at first, but the color of the blue in the flowers and my stockings ended up matching perfectly...this shade of blue flowed from my head to my toes! I got my blue fishnet stockings from a Halloween store last year after the holiday for the intentions of using them for this costume.

Putting on my whole costume on was a process in itself...I put the blue fishnet stocking on first, then my black top with the humerus bones, then the wedding dress. I pinned back my hair to apply my makeup. I had been looking up pictures of Emily and makeup for this costume for over a year. It took me two hours to put on my makeup. In some of these pictures my eyes are closed, but it looks like they are still open, creating a creepy affect when my eyes are open and shut! I used a blue eye shadow to create the illusion of bone definition in my chest, neck and face. I used blue, white and little bit of green face makeup to create the perfect shade of blue for Emily's skin color. I drew an area on the side of my face to create the illusion that my teeth were peeking out through my cheek. I also took some of the blue eyeshadow and applied it to my forehead and other cheek area to create a rotting effect. I used a pink lipstick to make large lips and I applied a white eyeshadow to my lips to make them bigger and fuller. After finishing my makeup, I put on my wig, veil, flower head piece, white long gloves and lastly, I held onto my bouquet. It took me three hours to get ready, but it was such a fun and exciting experience to finally be Emily from Tim Burton's "Corpse Bride."