Classic Children's Books Family Costume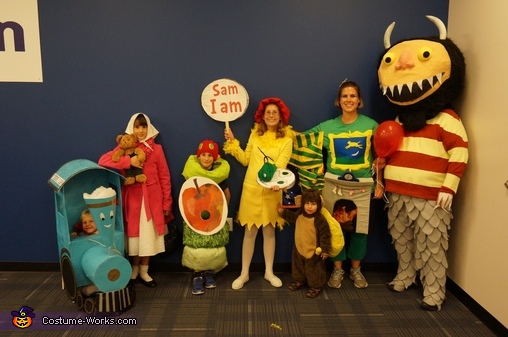 Classic Children's Books
More views:
(click to enlarge)
A word from Kelly, the 'Classic Children's Books' costume creator:
We really enjoy our family tradition of themed Halloween costumes. We always try to choose a theme that relates to a significant event of the past year, either culturally, in the news, or personally. This year's theme was inspired by little toddler as he discovered a love for books and we enjoyed watching him catch on to the family's love of reading. We decided to create costumes dedicated to classic children's books.

My one-year-old embodied Curious George carrying the Man-in-the-Yellow-Hat's hat on his back. My three-year-old became the little toy clown riding in his "Little Engine that Could." The seven-year-old wiggled around as "The Very Hungry Caterpillar." My girly nine-year-old chose to dress as Lisa, the little girl who buys a bear with a missing button in "Corduroy." The my oldest daughter took on the character of Sam-I-Am in Dr. Seuss's "Green Eggs and Ham." As for me, I donned a costume with various elements from the book "Goodnight Moon." And my husband was the best wild thing from "Where the Wild Things Are."

These costumes are largely hand-made. Every one of them includes a hand-made element. Only Curious George and Lisa from "Corduroy" are store bought. We really do our best to include everyone in the family in the gigantic task of constructing these masterpieces. It is a binding family experience.