Carmen Miranda, Fruit Fly & Spider Costume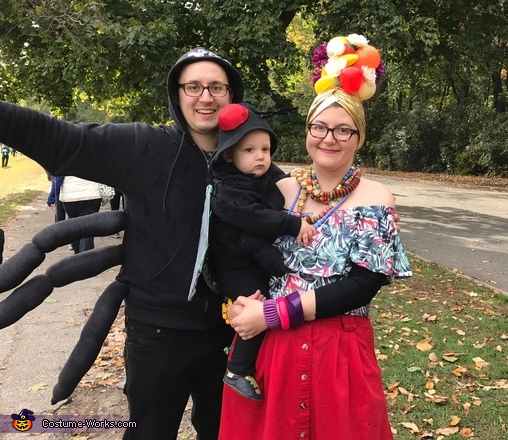 The whole family
More views:
(click to enlarge)
A word from Kseniya, the 'Carmen Miranda, Fruit Fly & Spider' costume creator:
I'm a big fan of Carmen Miranda and was excited by the prospect of making and wearing her infamous fruit headpiece. It was only natural to then make my 15-month old son into a fruit fly. I had considered making my husband into a banana, but continuing the chain and constructing a spider costume for him was more fun.

Construction was relatively easy but took some time.

Carmen Miranda's hat was made using a turban (with a sturdier small, round hat hidden underneath for stability), floral arrangement foam, and flowers and plastic fruit stuck into the foam and hot glued on top. Lots of jewelry and colorful, tropical print clothes completed the outfit.

Fruit fly costume was entirely done using a child's black sweatshirt. Cut up leggings were stuffed and sewed on for extra limbs. Wings were made using bent coat hangers to which I attached shimmery fabric (on which I drew the actual design of a fruit fly wing using permanent marker). Eyes were made using round plastic cup tops that were stuffed with tissue paper and covered with sparkly red fabric. A pipe cleaner was bent and sewed on top for antennae.

The spider costume was the most time consuming since it required stuffing and sewing on 6 extra limbs (again using cut up leggings) onto an adult sized hoodie. I finished it off with various size googly eyes glued on top.

Super happy with how this turned out!