Cabbage Patch Kid Baby Costume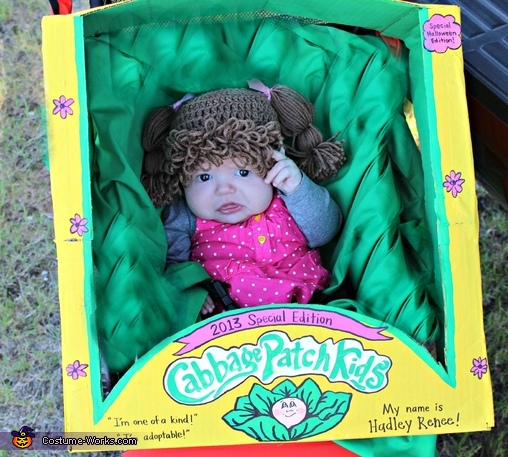 Hadley the Cabbage Patch Kid!
A word from Katie, the 'Cabbage Patch Kid' costume creator:
This is my 2 1/2 month old daughter, Hadley, dressed as a 2013 Special Halloween Edition Cabbage Patch Kid! Hadley was born in August of this year, and I'm one of those moms that was already thinking about her Halloween costume before she was even born! She was born with those awesome chubby cheeks and I KNEW she had to be a Cabbage Patch kid for her first Halloween. I thought it would be a great idea to make it look like she was actually "in" the box still, so I took an old computer box I had, cut it to look like a Cabbage Patch box, then painted it by hand, using my older daughter's Cabbage Patch box as a guide. I took green fabric and put it in her stroller around her and attached the box to the stroller using wire, so it looked like she was straight from the store! The wig was handmade by someone and she wore a corduroy dress to complete the look. It was an easy but fun costume to make, that has had an AWESOME reaction from people when we've taken her out to Fall Festivals so far. People LOVE it, and some even have to do a double take to make sure that there's a real life baby in the stroller!