Blaze the Monster Machine and AJ his Driver Costume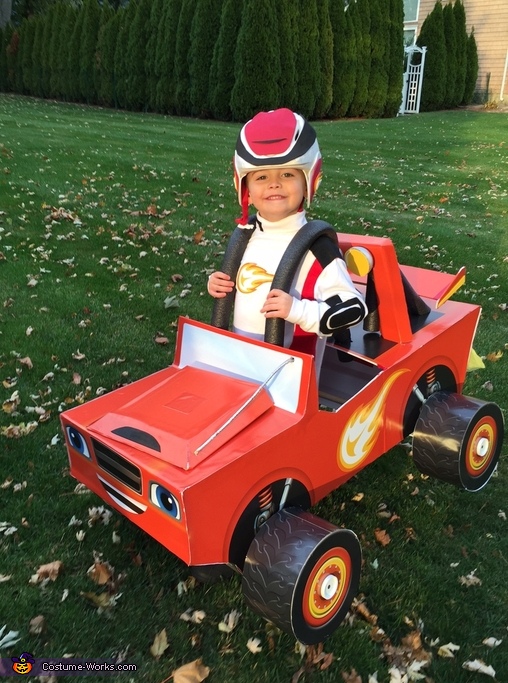 Blaze the Monster Machine and AJ his Driver Costume
More views:
(click to enlarge)
A word from Daniel, the 'Blaze the Monster Machine and AJ his Driver' costume creator:
My son Lucas is in love with Blaze and the Monster Machines. I have enjoyed making his costume for the last 3 years and this year was no exception. I started by purchasing white Coroplast from the internet. It is lightweight and easy to work with. I then, cut the template of Blaze just by eyeing up pictures and episodes on the television and started to assemble him. I came up with many ideas while I was doing this on how to make it more intricate and unique. I assembled all the parts on the underside with duct tape. After that, I took measurements of the structure and started working on the graphics. All of the graphics were recreated in InDesign or Photoshop and printed on an Epson printer. I added adhesive to the printouts and started assembling Blaze. I spray painted foam balls that I had cut in half for the foglights. I used piping insulation for the roll bars on the back and used the piping insulation for the suspenders that my son could comfortably walk around with for hours. I also secured the spoiler in the back with pieces of the insulation and some double sided carpet tape.

The wheels were made with large round cardboard storage boxes and I used long dowels as the axels so the wheels could spin freely. They were screwed into the dowels with support on either side so they could maintain their structure even with all the banging into walls and stairs that were expected.

I also added some boosters in the back of the costume using cylindrical canisters I found with colored tissue paper stuck inside.

The last feature I thought of since it would difficult for my son to hold a bucket as well was a candy bucket installed into the hood of the truck. I used rope and a handle for Lucas to pull on for the hood to open so the candy would be hidden and secure.

For the AJ costume I used felt and iron-on bonding material to match the characters driving outfit the best I could. For the helmet, I took one of Lucas' old bike helmets and removed the graphics from it. I then used thin sheets of foam paper to make the graphics and stuck them on using double sided tape.

All in all, it was an amazing Halloween and Lucas loved his costume which is all I ever need!