Big Trouble in Little China Costume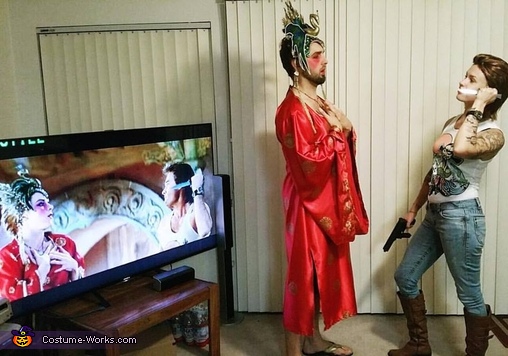 Scene double!
More views:
(click to enlarge)
A word from Jennie, the 'Big Trouble in Little China' costume creator:
My brother and I decided to do this duo from Big Trouble in Little China, Jack Burton and Gracie Law! Except I wanted to be Jack, and he was down to be Gracie in that crazy getup! Spent about a week on both our costumes. The supplies for his costume were about $60 and mine about $70, but his was made from entirely basic materials, I bought some of my stuff.

Glad he was down to wear that elaborate head dress and Chinese wedding dress! Made from red silk for the dress, edged with gold rope, stenciled and hand painted with gold paint. The head dress took HOURS. Starch hardened jean fabric topped with sequins, gold rope, pearls, hand shaped and painted green and blue feathers, gold painted feathers and peacock feathers, held onto the head by a wire comb headband. The peacock head centerpiece was shaped foil covered in femo clay, baked and painted gold. The adornments hanging from the side that look like earrings are all individual jewelry pieces connected together, even including some little bells that actually rang! Probably used 6 glue sticks, half a tube of super glue and a whole can of spray paint.

For my costume I bought the Jack Burton tank top on a specialty website but had to take it in to fit me (I'm not quite a men's small). $5 thrift store jeans, $16 boots on amazon, $10 gun from ebay (spray painted black for photos), $3 costume knife, $13 long brown wig that I cut and styled into the mullet myself. Borrowed an old watch from dad and, oh yeah, the lipstick smudge, classic!