Beauty and the Beast Costume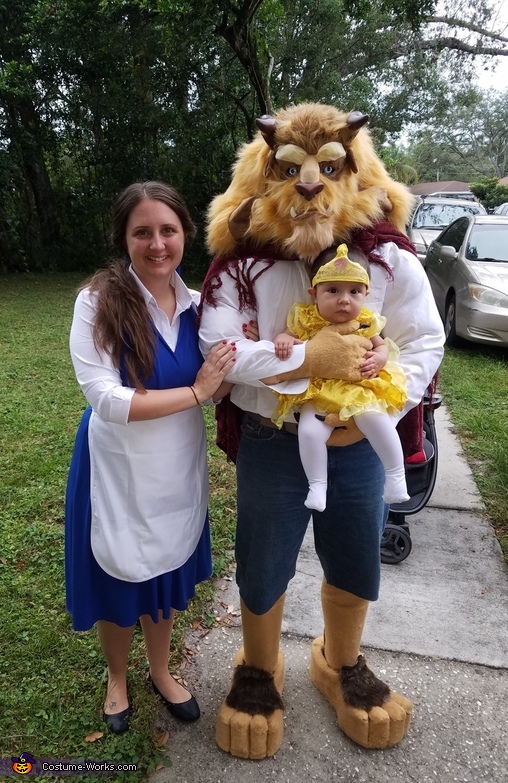 Beauty and the beast
More views:
(click to enlarge)
A word from Reymundo, the 'Beauty and the Beast' costume creator:
My wife is wearing a belle costume that we put together from things we had around the house. My daughter is wearing a yellow ball dress that we purchased.
Everything about my beast costume was made by me except the mask which we bought from target.
The materials I used for this costume are: cushion foam,shoes, gorilla glue sticks, hot glue gun, eva foam, faux/plush fabric, electric knifem, work gloves, Velcro and craft foam. The overall cost would be around 100 dollars and the time it took would be approximately 36 hours but over a period of 2 weeks. For the feet I used the eva foam as a base and attached shoes on top of it after creating a large foot print. Then I layered the cushion foam to the height of 4 inches and preceded to carve the toes out of it before applying the faux fur. For the legs i used the craft foam as a shin guard so the fabric wouldn't fold on it's self. And secured the back with Velcro(also a spot that would attach to the bottom of the pants.) I stuffed the gloves with scraps of foam so it would be easier to use hot glue to attach the fabric and keeping a good amount of slack on the hand so you can make a fist. I used faux leather for the nails and glued them between the fabric and finger tips. I kept in mind the need for a bare palm and extended the fabric for the wrist to be covered and it secured with velcro. I used an old muscle suit I had laying around for extra beastly bulk and took a piece of fabric to cover the chest.