Batman Costume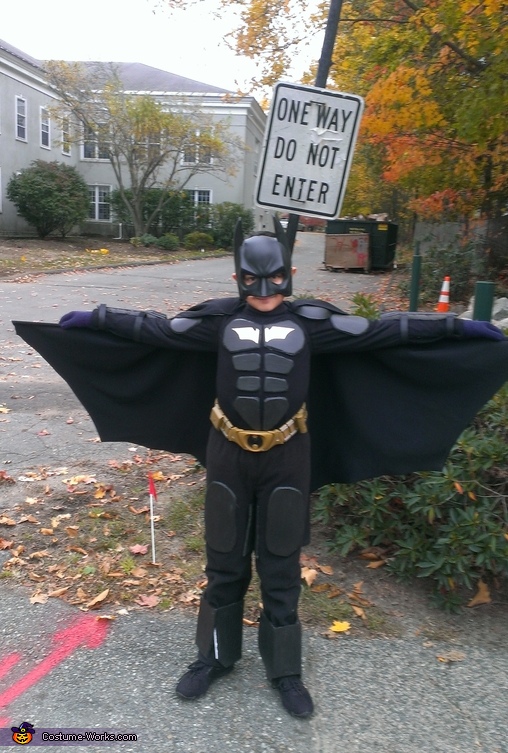 Batman Costume
More views:
(click to enlarge)
A word from Rayhan, the 'Batman' costume creator:
My son likes super heroes and wanted a Batman costume. Halloween was the right time to make it.

"how-to" instructions:
1 Black long sleeve shirt
1 Black sweat pants
1 pair of black gloves
2 yards of black cloth for cape
10 foam sheets.
black paint, brush to paint
glue gun
1 batman mask
1 batman belt
velcro

First I found the pic of the batman which i wanted to make. Then draw and cut the chest, abs, muscles, thighs, shins on a piece of paper. The trace and cut it out on foam. Paint the black. Paint about 2 to 3 coats. let one coat dry before painting the second coat. Glue the foam pieces on the shirt and pant. Slide a newspaper in between the shirt and the pant so that the glue does not stick on the clothes.
Put velcro on the guts and the shins.

Cape:
I measured the width and the length of the cape leaving 1" for stitching. Cut the shape if the wings. I took one long thick stick and cut in half. Then i make slits on the two ends of the wings and slide the stick in it. Cut a long string for the neck and stitched along the shoulders.

The cape and the foam body was a hit. My was very happy wearing the costume that made me happy too.