Batman Play Arts Kai Costume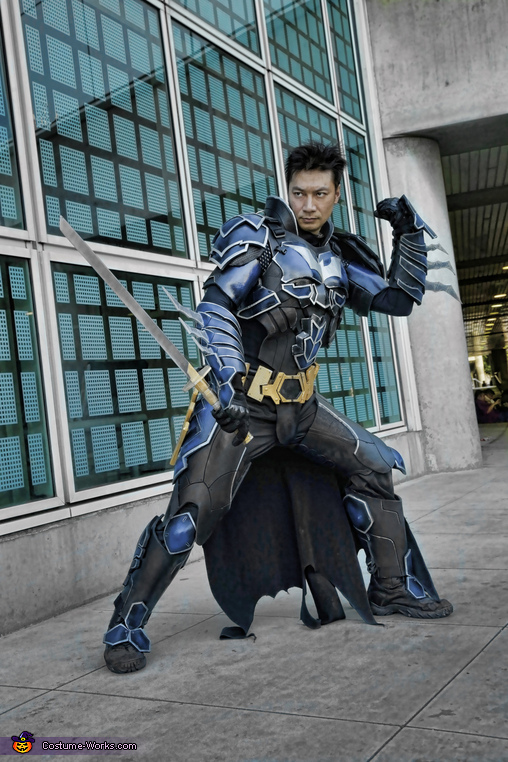 Batman Play Arts Kai
More views:
(click to enlarge)
A word from Max, the 'Batman Play Arts Kai' costume creator:
This is the Batman Play Arts Kai variant costume, its based off the action figure from Square Enix.

Material used: EVA foam, hot glue, x-acto knife

Time: approx. 1 month

EVA foam (also called high density foam/craft foam/floor mat), the reason I chose EVA foam is because its

1. cost effective, and

2. its available anywhere (Homedepot, Harbor Freight Tools, Toys "r" Us, and any gym supply stores),

3. easy to use (just a x-acto knife and hot glue, heat gun optional)

First i plan out what are the parts needed and the size of it, you can do this many different ways, the quickest way is that i would put the foam directly over my body and draw on it, or you can draw on a paper and then transfer it on to the foam

Once its done, clean up the lines and just cut them out with a x-acto knife, just make sure the knife is sharp, so the line will look clean, if not, don't worry, you can sand it smooth if needed.

there was a lot of trial and error, since this costume don't have a lot of reference photo, but its ok... if it is cut too small, just cut another one, since the material is cheap... the other way to correct that is to add an additional piece to it. just start gluing each sections one at a time, as you can see, i like to save time by painting each sections at a time, which is very very effective, because:

1. you can make/or glue the next section while waiting for the paint to dry

2. it save a lot of time and material later (you don't have to tape each section and paint)

Now for all the curves and round shapes, you can use a heat gun to heat up the foam, once it is soft, you can change its shape by pressing on it and shape it, if you don't have a heat gun, you can use stove top or hair dryer as well, just not too close if you use stove top.

after all the parts in each of the section are done (painting and gluing) i'll usually do a test fit of each section, if everything fits well, then perfect, if not, no problem, I'll just cut them open and make the modifications, remember, everything is just foam and hot glue, you can always cut it open and glue it back, so never fear...

After all the final adjustments are done, then its time to connect each sections together by using flexible material such as webbing, elastics or adjustable clips.