Baby Chewbacca and Little Leia Costumes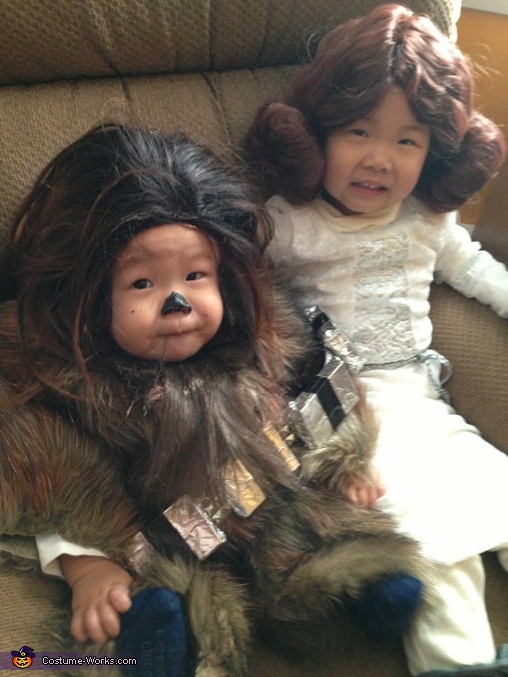 Baby Chewbacca and Little Leia
More views:
(click to enlarge)
A word from Brandon, the 'Baby Chewbacca and Little Leia' costume creator:
A long time ago, in a galaxy far,
far away...
my wife happened to suggest out Baby Chewbacca for this year's Halloween costume for our 1 year old son. Of course, being Halloween aficionados, his sister would need a costume too! What better costumes than a galactic couple, Baby Chewbacca and Little Leia? So we set out to the thrift store, where I luckily came upon the perfect large sized overly hairy women's vest, that would be the pivotal piece for Baby Chewbacca. I cut out the bottom of the vest, cut in two, and rolled them into arms, which I sewed to the vest. Then slit the bottom of the vest and rolled and sewed legs. I cut out a toddler's duck custom zipper and sewed that in, and with a cool rock and roll wig, his costume was almost complete. Of course, Chewbacca needs his ammo belt which was fashioned from a silver studded belt, where I attached raison boxes wrapped in aluminum foil, and attached with tape. His sister's costume was from a princess dress and a Wizard of Oz Dorothy wig that I rolled into the famous Princess Leia rolls via youtube video. Everyone asks me, how I got my baby into that costume, where, my secret is easy, Animal Crackers!

Everyone thinks I'm Darth Vader in the photos, but its not, I persuaded my wonderful wife to be Darth, so I could take the photos! What can I say? Halloween is my favorite holiday because its the best time to be whomever you want, and it's okay.