Ash-Greninja Costume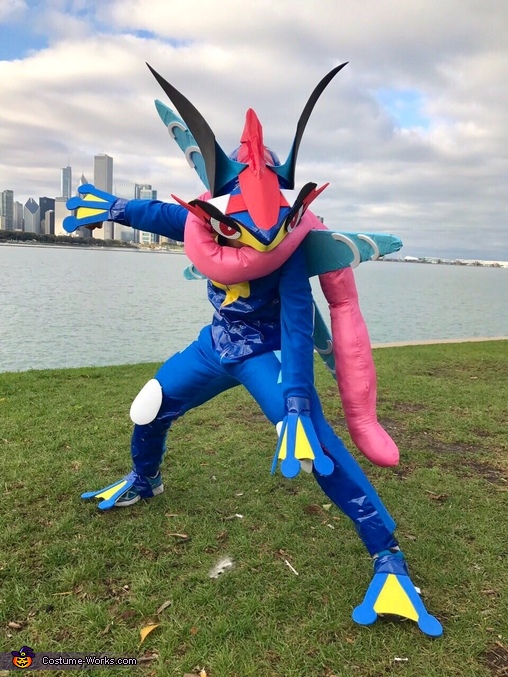 Chicago view at the Adler Planetarium
More views:
(click to enlarge)
A word from Christine, the 'Ash-Greninja' costume creator:
"Itís ASH-GRENINJA!!! Catch him!!!"

Actually, thatís my 11-year old son, ENZO Ė a Pokemon fan who saw an episode with Ash-Greninja, a super powerful Pokemon with a rare ability to bond with its trainer. Enzo knew right away that he wanted to be this Pokemon for Halloween. As a costume for this is not available in stores, we knew that we just had to be creative and do it ourselves! It was a daunting task, but Enzo was all set and drew up a plan to create the costume. He also believed in me, his Mommy!

For the HEAD:
The base of the head is a $2 fireman's craft foam hat. I cut 2 plastic cups in half and used duct tape to attach them to make eyes. I wrapped a netted fabric around the cups so my son could see through the eyes. I then cut craft foam for the rest of the face and antennas and put the pieces together with duct tape. I hand-painted the eyes with acrylic paint.

For the BODY: I used a Spiderman fleece sleeper. Blue duct tape was used to cover all the red markings on the original sleeper. More details were added with yellow and light blue duct tape. I cut the net fabric under the arms (Spidey's web) and used this fabric for the eyes (nothing goes to waste!)

For the ďShurikensĒ/ WINGS: I cut the wings from cardboard and my son covered it with light blue duct tape. The white markings are made from foam and glued to the wings. Nylon string was stapled to the wings so that it could be worn. More duct tape covers the staples to enforce the attachment.

For the HANDS and FEET: Craft foam was cut to form the hands and feet and attached to the cuffs and shoes with duct tape.

To make the THIGHS bigger, I bagged polyfill and inserted one on each pant leg.

For the TONGUE: My husband got a shiny, slippery pinkish-coral fabric which I cut and hand sewed then filled with polyfill. This is worn around the neck.

We brought my son to the Pokemon Go hotspots around Chicago and Wisconsin. At the Adler Planetarium and the Museum Campus, the Pokemon Go Trainers were thrilled and were taking pics as he was going around. Many people shouted his name, "Ash-Greninja", and asked to have their pics taken with him. Others said, "Catch him!" We also brought him to Kenosha Harbor, another Pokemon Go hotspot and many people took his pic, greeted him by his character name and told him his costume was awesome. My son is completely thrilled with his ASH-GRENINJA costume.