Green Toy Soldier Costume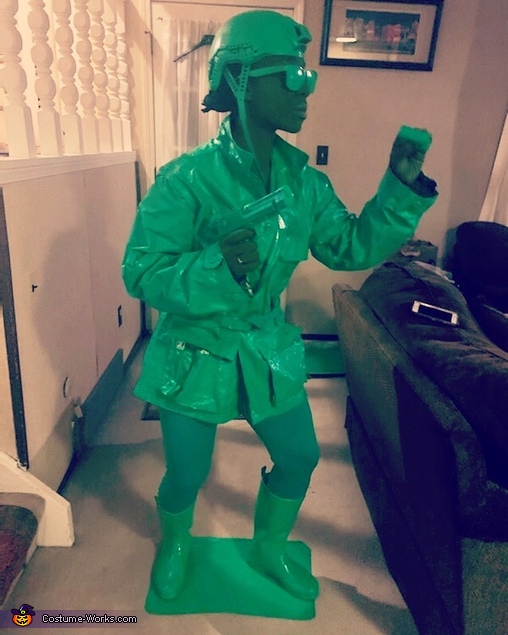 Green Toy Soldier Costume
More views:
(click to enlarge)
A word from Brittney, the 'Green Toy Soldier' costume creator:
The costume was created by me, worn by me! The idea came from friends of mine wanting to go as a sexy Woody & Buzz Lightyear. I opted out of purchasing one of the store bought costumes and promised that I would come up with my own, while sticking to the TOY STORY theme.

I wasn't interested in playing up the "sexy" part of the theme, however I was super excited to be challenged to choose a character from the movie that would make for a creative costume. That's when the toy soldiers came to mind.

HOW TO
First, I shopped for an authentic army jacket at the Goodwill, then I found the toy accessories - gun, helmet, grenade, binocular, knife, sunglasses - at Walmart & Dollar Tree. Once I decided to do without the army pants (to feminize it) , I then looked for green tights/leggings that would set the color scheme. After finding the leggings at Party City, I went to Home Depot to find spray paint that matched perfectly. I knew I'd need primer for painting my pre-owned rain boots, belt and the Goodwill jacket, so I purchased that as well.

Next, came the painting! In my parents garage I staged the items on card board and a plastic drop cloth. I primed almost everything, I let it dry then started painting it all green. I knew the jacket would take the longest so I saved it for last. All of the toys took easily to the spray primer, but the jacket required a heavier liquid primer (the same kind you use for walls). That gave it a vinyl/plastic look and feel. I let that dry for a few hours then spray painted the green in every nook and cranny of the jacket that would be seen. I then took one of the cardboard pieces I used to spray the toys on and sprayed it completely, then shaped it to make it into my base.

Lastly was painting the parts of my body green, that showed. That was the easiest part.