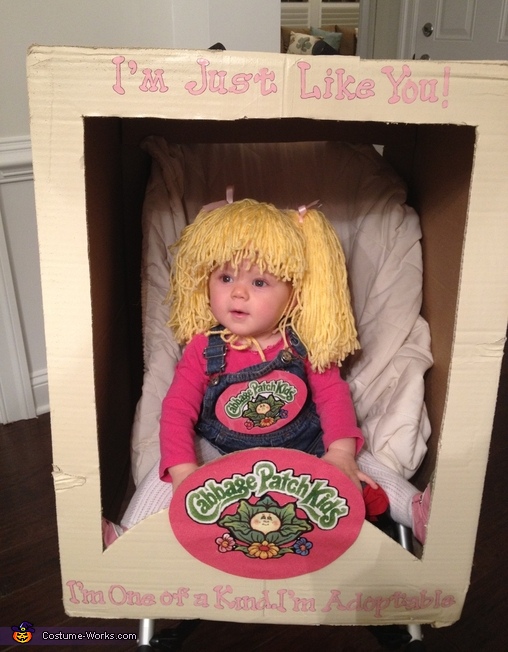 Cabbage Patch Kid in the Package
More views:
(click to enlarge)
A word from Laura, the 'Cabbage Patch Kid' costume creator:
My 10 month old daughter, Elise, is my real live Cabbage Patch kid! Growing up, I was obsessed with stuffed animals and dolls and always wished they were alive. Now that I have a baby, I can make that come true at Halloween! I created Elise's halloween costume using a few simple materials...Yarn, Glue Gun, Construction Paper, Card Board Box, Spray paint and Sticky Letters. In total, it cost me approximately $30 from start to finish. I made the wig by gluing the yarn to a baby beanie that E did not need anymore. I then cut off the pigtails that were hanging down and glued them to the top of the hat so it looked like they were pulled up. I added some ribbon to make it look pretty. I then made the 'package' that she sat in by cutting out a cardboard box, spray painting it and putting sticky letters on. Last but not least, I printed out the Cabbage Patch logo and put one on the box and one on her chest. Simple and super cute!! My very own Cabbage Patch Kid....Elise Victoria!