Renaissance and Medieval Costumes
The days of Knights and Noblemen, a Lady-in-waiting and her Queen... Little Princes and Princesses running around the Castle halls. Days of Honor and Romance.. What an exciting time to visit if you may.
Today, Renaissance and/or Medieval Fairs and Festivals are very popular. The MAIN thing about Medieval Events and Activities, is that if one wishes to participate in any Festival Activities one should dress as someone from that period of time. Even if you don't wish to join in in activities offered, it's fun to simply be an observer and add to the color of the festival by donning a Renaissance Costume. Adults and Children alike will enjoy dressing up in the "garb", as it's referred to by the Medieval pros, of Medieval times. Through this page..and the stores you are taken to... you will find everything from Suits of Armor, to a Kings Crown. From a Merchants simple garb, to a child Prince's Royal Robes.
Below is a painting by J.M. Wright it is a "Portrait of Lady Castlemaine". The painting gives a hint of the lush and beautiful materials used for the clothing of the day.

The EVENTS of the Renaissance Days are numerous. They usually surround a Festival or Fair where Merchants gather to sell Renaissance/Medieval wares while patrons are entertained by wandering Musicians, Jugglers, and Bellydancers. An activity might be an Archery Competition or Jousting on War Horses. For the children and more mild-hearted adults there are Marionette Shows, Arts and Crafts to admire and purchase. The most fun of it all is to become a part of this ancient backdrop. BECOME a Dashing Knight or dress in a Merchant Costume and hawk your crafts in one of the many booths to be rented at the fair. Become a Renaissance Maiden and your friend or mate ..well..Shall we make him KING?
And WHAT, would Medieval times be without that big ole heavy suit of Armour that some Knights wore into battle...

Below a Renaissance family is all dressed up in the Garb of the times: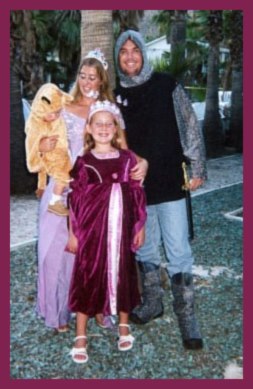 Below is one of the best Renaissance Period Outfitters of Garb and Accessories that I could find here on the Internet. If you adore this period of time as I do it will seem like a treasure hunt. The Tudor Shoppe carries MANY beautiful and period-accurate things.
Scroll slowly down and I will show you some great Garb, Outfits, Gowns, Undergarments, and Other Renaissance Accessories from The Tudor Shoppe just below.
| | |
| --- | --- |
| Venetian Dress | Inkeeper Garb |
| Gypsy Wench | Dukes Doublet |
The Tudor Shoppe has Dresses and Gowns and anything and everything that could or DOES go with a Lady.. or shall I say a "woman".. or maybe I should say a "female" because they have all of the things a little princess would require also. They also have fine wears for the She who's in the mood for some Tomboyish fun. There are pirate garbs for woman who love a little daring-do. You can play the wealthy "Lady" or you can enjoy the more ENTERTAINING life...as a Barmaid. It all comes down to MOOD I think. From knickers to jewelry this Shoppe has it ALL....Go check it out... I think you'll be pleased. Here are a few more of their wares.
Men also won't be disappointed. From a Hooded Robin...To the Kings own Knights. It will be romantic to the ladies, like it or not! Our feelings aside though...Think of the fun you will have at the jousting matches at the faires...as either a jouster or just a member of the onlooking crowd. Stop over at the local pub for a mug of your favorite mead and checkout the barmaids...if you dare :-).. for I hear they are a fiesty few. Don't forget to check out the Tudor Shoppe for your weaponry also.. (If you don't find what you want at this shoppe you will find more further down this page).
Here are examples of some more Garbware you will find at this Renaissance/Medieval Shoppe.
While on the topic of Renaissance/Medieval Garb, specifically from the Tudor Shoppe, let me put up something they carry for those of you who are "creative", have some sewing skills, and the time..AND patience... to do something as rewarding as putting together Homemade Renaissance Garb . Making your OWN Renaissance Garb could REALLY be exciting I think. I would be tempted to add my own special touches and thereby "personalizing" my creations. What FUN it could be! and I can only imagine the money saved by putting your own labor into such a cool project.
That said... Here are just a few of the "Easy" Renaissance Clothing (or GARB) Patterns:
| | |
| --- | --- |
| Peasant Bodice | Elizabethan Tabbed Corset |
| Elizabethan Doublet | Renaissance Breeches |
As I said above..these are only a FEW of the Patterns you will find at the Tudor Shoppe. I am quite sure you would find every pattern and instruction to put together a great Renaissance Garb ("set"? of Garb...? hmmmm ...) for your next Renaissance Days Event.
Here's a picture of a Medieval Juggler... Taken at a Renaissance fair in Palm Springs, California, sometime in the 1990's.
When I think of the Medieval/Renaissance Period... It brings back memories of MY childhood when my Mom would take me to the THEATRE to see MOVIES (YES! There WERE "Moving Pictures" when I was a child! :-). My fondest Movie memories are of Walt Disney's "Sleeping Beauty" and "Snow White". Basically Fantasies taking place in times of Castles and Princes/Princesses; Magic and Fairies.
As I travel forward with this site I will have more online Costume Stores, and other fun links listed... So please check back from time to time for any of your Costume needs.