Homemade Costumes for Families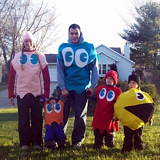 Halloween is a festive holiday meant for the whole family to enjoy, so it's no surprise costumes for families are equally enjoyable! Costumes for families can include whoever you like and a combination of funny and entertaining characters, celebrities, or more. Perhaps your family is hosting a Halloween party; coordinating and creative costumes for the whole family can be a great way to bond together as well as entertain your guests.
Whether your family dresses up as a famous family, character family from a movie or TV show, or depicts frightful appearances, there's a variety of fun options when it comes to costumes for more than 1! As you can see below, these families have displayed vibrant and unique costumes providing each member with a fun and exciting way to celebrate Halloween. All of the costumes for families below are homemade, completely original, and contest entries from our annual Halloween costume contest.
You may also like:
You're viewing page 1 of 76.

Back to Costume Gallery Main Page