Welcome to Costume-Works.com!
Costume Works website and its famous annual Homemade Halloween Costume Contest was founded by Coletta Daniel in 2006. Starting from 2011, this website as well as Halloween Costume Contest is maintained by a small group of Halloween enthusiasts.
Halloween Costume Contest
(random entries)
* * *


CLICK HERE TO ENTER
2013 COSTUME CONTEST!

Homemade Costume Contest
2012 Contest Winners:
Most Creative Costume
Coolest Adult Costume
Best Children's Costume
Favorite Halloween Costume
Best Costume for Pets
Favorite Pet Costume
Congratulations WINNERS!!
You are all AWESOME!
View all the 2012 Contest Winners (30)
View all of the 2012 Halloween Costume Contest entries (2446)

To ALL of you who did such amazing jobs on your Costumes, but who did not win a prize... We'd just like to say THANX for joining us and sharing your cool creations with US and the world.

Check out our Past Halloween Costume Contests below:
2012 Halloween Costume Contest
2011 Halloween Costume Contest
2010 Halloween Costume Contest
2009 Halloween Costume Contest
2008 Halloween Costume Contest
2007 Halloween Costume Contest
2006 Halloween Costume Contest
Costume-Works.com is YOUR source for locating Costumes for all occasions, all ages and sizes, inexpensive, costy, or costLESS. The range provided is wide and diverse. On this Website you will find:
A Costume Picture Gallery of YOUR Photos
An Annual Halloween Costume Contest (and Archives)...win CA$H!
Pictures of, and Instructions for, Homemade Halloween Costumes
On Line Stores for a wide variety of Costumes, Accessories, and Party Supplies
My name is Coletta and I am here to assist in making all of your shape shifting fantasies a reality. It is my hope to create a site that will meet any and all of your costume needs. With your help... in the form of Ideas, Pictures, Homemade Costume "How-To's", Contest Entries, ...I'd like this Website to become a fun and informative site for anyone interested in Costuming. I will post Costumes, Accessories, and Props, in all of the different ranges, styles, and prices that I find available. By that I mean: Priced from the Least Expensive... to the More Expensive; From Factory-Made, to Hand-Made; From Reproduction to The REAL Thing. Keeping in mind that the old saying "You get what you pay for" is generally a true statement... Let me just ask that you keep that statement in mind when making any Costume buying decisions. I WILL say that the Online Stores that I take you to are the stores with only the BEST of reputations for fine products. If you decide to go for a cheaper product (and we all have reasons why "cheaper" can be the wise decision)...you will still be getting a darn GOOD product. I assure you that I would not post a shop on my site if I had learned anything negative about it's products OR it's operators.

Bottom line is that I hope to have a site that will be enjoyable to visit as well as easy to use in finding exactly whom or "what" you would like to become for a certain occasion, holiday, activity, or just for the fun of it. Ü.

We have a Costume Photo Gallery in which we have posted some of your favorite Halloween Costume Pics (mostly homemade costumes, but also store-bought and rented costumes), favorite Costume Ball (or Party) Pictures, and even cutest Dressed-Up Pet Pics. ALL are welcome additions to the Pictures Page / Photo Gallery!
View more costume pictures, by category >>

We can always use MORE PHOTOS - Please send us your photos you'd like to see in our Costume Photo gallery!

We are REALLY excited about the new contest entries, that will keep showing up on our website. Checkout the Fairy Dresses on our Fantasy page. See some of the STEAMPUNK clothing and accessories on our Medieval and Renaissance costume page. ALSO, be sure to see Vampires and Witches on Adult Halloween Costume page. OH! and DON'T MISS the lil additions like SHOES, SUNGLASSES, CANES, and JEWELRY offered on our Halloween Accessories page.
Come and Browse... LOTS to see and enjoy!
The world of COSTUMES is so large that it may take some time to include all of the occasions one might find... in which a costume is needed or desired. If there is something that I miss...or something NEW that is happening in your neck of the woods that requires a little shape-shifting, ego altering, magic wand waving, or simple "prest-o-change-o", to slip into the skins of someone or something else for a piece of time.... please feel free to share the occasion and it's idea with me here at Costume-Works.com. Your ideas and thoughts will be greatly appreciated. For those of us who enjoy the fantasy of getting out of our selves and into that of someONE or someTHING else.. we will be happy to mark off another Costume Occasion on our calendar.
Speaking of OCCASIONS!.. Halloween IS, for many fellow
Costume lovers, THE Dress-Up Occasion of the year!
As you may notice... We have dedicated the first several pages of this site to Halloween and all you need to do is click a Topic on the Menu on the left of this page to get to the desired Halloween/Costume page. Of course you needn't stick to pages labeled "Halloween" to find a great Costume to wear on Halloween. Further down the Menu you will find Fantasy Costumes, Movie Costumes, Historical Costumes, Holiday Costumes, and etc. Someone may want to dress like an Outlaw or Sheriff, (found in the "Western Costumes" section...) Or maybe even to be a Turkey! (..that Costume likely found in the "Thanksgiving Costumes" section) Both, of course are greatly acceptable as Halloween Costumes Ü.
While we are on the topic of Halloween, let me show you a few Costumes that I happen to think are cool.
If you desire making your own costumes this year.. go on over to the Homemade Costumes pages for Ideas and Instructions.
Don't forget to put this site in your favorites, just in case you lose me in your travels... and you'd like to return.
Let's start with Witch Costumes from BuyCostumes.com:
There are SOOOOO many new and STYLISH Witch Costumes out each year that it's nearly impossible to keep up... also impossible NOT to find a Witch who speaks to JUST the Bewitchy way you are feeling this year. SO! Go forth and delight in all of the choices you have at any of the stores you shop at through this website.
Gentleman (and brutes :-) I must admit that it's sadly true that men are left a bit short in the Witch Costume Category. Never to fear though..there are plenty more MANLY costumes to make up for the witchery costume shortage. Check just below for example!
EGADS!!!!! ZOMBIES!!!!!!
("manly" (i.e. gross) enuff for you Guys? :-)
Parent and child feel free to roam the neighborhood in search of Brains (above) in these wickedly realistic zombie costumes from SpiritHalloween.com.
If you are looking for costumes for any occasion, a GREAT on line store to visit is CostumeCraze.com. With a range of toddler costumes to adult Halloween costumes and everything in between, with all the accessories you need to complete your costume!
~~~~~~~~~~~~~~~~~~~~~~~~~
CelebrateExpress.com... Has some "EGADS!" Scary..but also some just plain FANTASTIC Adult Halloween Costumes. There are also Scary or absolutely DARLING Childrens Costumes. To go WITH the Costumes, you'll also find Accessories and Props. They also carry Halloween Party Supplies. Check out a few of their Costumes just below.
If you are looking for the new and popular Halloween costumes then you need to check out SpiritHalloween.com. They have all your adult Halloween costumes and kids Halloween costumes online. They also have a huge selection of couples costumes and sexy Halloween costumes for those that are looking to go in pairs.
Here are some great couples costumes from SpiritHalloween.com:

The above costumes are just a VERY SMALL (comparatively) example of what I have to show you on my other pages so please roam around. Click on Costumes you like and you will be taken to THAT store. Bookmark this site so you can return here easily...IF your heart so desires Ü

Halloween may be the BIGGIE for Costumes... but let's not forget the other Holidays that often require Costumes for Parties, School Plays or Parades. To list a few:
~~~~~~~~~~~~~~~~~~~~~~~~~
Christmas
Santa Clauses (Mr. AND Mrs. Ü), Reindeer, Angels...
Above Costumes from SpiritHalloween.com
(where they don't carry ONLY Halloween Costumes! Ü)
~~~~~~~~~~~~~~~~~~~~~~~~~
Thanksgiving
Turkeys, Pilgrims, Native Americans...
The above Costumes are brought to you by SpiritHalloween.com.
~~~~~~~~~~~~~~~~~~~~~~~~~
Easter
Easter Bunnies, Chicks, Easter Eggs, etc.
The Costumes above are from BuyCostumes.com.
(I must admit..the baby costumes are my FAVORITE!
Ü TOO CUTE!)
~~~~~~~~~~~~~~~~~~~~~~~~~
Valentines Day
Valentine's Day costumes: Hearts, Cupids, Couples Costumes, etc.
above are two more couples costumes from SpiritHalloween.com. A Valentine Princess Costume for the little princess of your heart... and a Fedora that says "Love Slave" on it. A nice thing to wear for your significant other on Valentines Day Ü.
Remember....The costumes I am showing you on THIS page are only a "preview" of what you can view on specific pages for specific occasions Ü
Checking further down the Menu... Under "Historical Costumes" you'll recall that there ARE such GREAT "dress-the-part" events as:
~~~~~~~~~~~~~~~~~~~~~~~~~
Renaissance Faires
More BEAUTIFUL Renaissance Costumes can be found at Renaissance and Medieval costumes page.
~~~~~~~~~~~~~~~~~~~~~~~~~
Days of the OLD WEST
There are also Rodeos and good ole Country/Western BBQs and Barn Dances to dress "Country style" for too. I hear that "Western Days" celebrations are getting more popular (at least "Out West" Ü) by the year so put on you Cowboy Hat n' Boots, join in the cattle drive, and get ta Two-Steppin'! Ü! Yee Haw! Don't forget to check out my Western Costumes page.
All of the above are found at BuyCostumes.com
~~~~~~~~~~~~~~~~~~~~~~~~~
It seems to me that just about any "Occasion" or "Holiday" can be made into something a bit more special...maybe even a LOT more special...if the element of "Costuming" or "Masquerading" is added.
MARDI GRAS is traditionally a NEW OLREANS, 3 day party and parade. Costumes for Mardi Gras are a very necessary item if you'd like to feel TRUELY a "part of" that street party. The fun and craziness of this affair has, for a few years now, made it's way further East and all the way West...and is celebrated similarly in many cities around the good ole USA. I am hearing that the last few years... Mardi Gras was celebrated as far away as... by our troops in Iraq! As you can see by the picture below...the troops went ALL out for this occasion! This is...a GREAT PICTURE! Ü
~~~~~~~~~~~~~~~~~~~~~~~~~

There ARE plenty of OTHER reasons (or excuses) for dressing up in costume of course. There ARE Birthdays! (Having 6 children and 11 grandchildren.. I am VERY aware of this fact:-). Masquerade Birthday Parties can be JUST the thing for turning a yearly event that can get rather repititous... into something much more exciting and out of the ordinary. Age should be no object, as these types of Birthday Parties can be enjoyed by Children and Adults alike.
How about a COSTUME Birthday Party for a youngin'. Wouldn't the kids just go CRAZY dressing as their favorite Super Heros or Cartoon Characters?
Many of us, as children, enjoyed the fun of getting into Mommy and/or Daddy's closet, or even better, stowed away trunks from Grandma and Grandpas time. There we discovered worlds of role-play. We called it "Dress-up" when I was a child (looooooong ago). My mother offered up some of her costume jewelry and even a bit of make-up too. What JOY! It was very exciting to be able to shed my 'little girl' persona to become a glamorous woman. Yes, glamorous. The cut glass in my Mothers costume jewelry necklace had turned to diamonds (Large Marquise Diamonds as a matter of fact:-) with just a wave of my imagination.

Of course, as I got older, the fascination with my mothers closets wore out, but I continued to look forward to every chance I had to be in costume. Halloween became a BIGGIE and actually remained quite an occasion all the way through my child rearing years. I had so much fun dressing my own kids for Halloween..that I think even THEY enjoyed my nit-picking their Costumes to perfection. They loved it and so did I. Heck, I even had to dress-up myself (on THEIR insistance of course ,-) to take them trick-or-treating a time or two.

Now that I'm a more "mature" woman, I leave most of the dressing-up to the youngins. I have 6 adult children and 11 grandchildren (and still counting) so I figure I DID my job! I'll just sit back and get my joy out of "watching" and helping all of you out there, the best I can to have your costume ideas and dreams come true. Costuming, and everything about it, can be LOADS of fun that NOBODY should have to miss out on!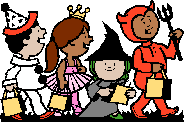 ---
If you'd like to read some of my writings...musings...thoughts... WHATEVER these articles that I created can be considered. I wish you an enjoyable read Ü Read articles about costumes by Coletta.
In the Costume Ideas section of our website, you can find costuming related articles written by Costume-Works.com founder Coletta Daniel and other editors. If you'd like to see your "How to's"/Costume/Halloween/History article or review on our website, please send it to us, and we'll be happy to publish it here!