Ursula Costume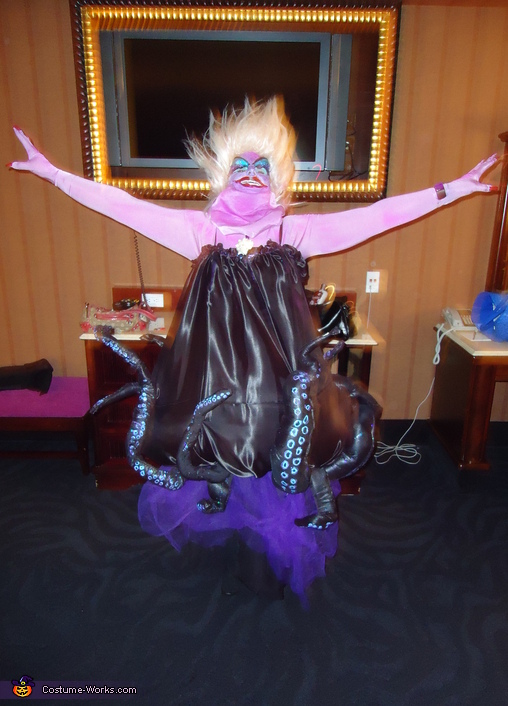 the front
More views:
(click to enlarge)
A word from Laurie, the 'Ursula' costume creator:
I am wearing the costume. (Laurie Pattillo)
I dress up every year trying to make an original costume to out do the last. Halloween is my favorite.
As for this costume, I started with the bottom, sewing occtipus legs, stuffing and adding heavy wire to each one. I bent each one so each one would stand out. Each leg has glitter and on the under side round sucion cups painted neon blue and purple to resemble real occipus legs. I balloned the materisl of the body of the out fit and gathered and tucked it here and there. Then sruffed with purple net. I wore a purple turtle neck I made out of strectch lycr, painted my hands the same color and added fingernails. For her big double chin,I took some thin foam, shaped it and painted it purple. For the face, I took a joker mask and cut it in half using the bottom for the mouth. For the top of the face, I used another mask, cut in half for the big eyes and eyelids. Each part of the mask has been repainted to match the purple color that is her skin color. For the hair I truned a wig upside down and spiked it up!!! I started this costume two months before halloween and was glad I did.