Ursula the Sea Witch Costume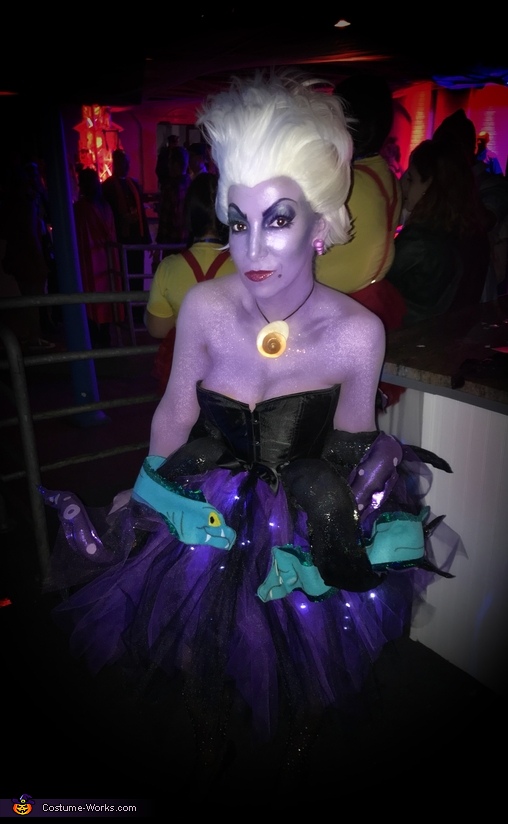 Finished product
More views:
(click to enlarge)
A word from Emilee, the 'Ursula the Sea Witch' costume creator:
I am the costume wearer! It would be, my brother and his girlfriend My brother's girlfriend told me she happened to own an Ariel wig from dressing up for school (she's a teacher). Seeing as I knew it would take awhile for all of us to decide on a group costume I said let's go from there!
My search for the perfect way to make Ursula come to life began.
I purchased all the "easy" stuff first.

Through amazon I was able to get: body paint and barrier spray $10, wig $10, corset $18 and rhinestone black tights (these were amazing and I can use down the road for other things!)
Any other costs were the tulle skirt (friend made me this) and the fabric for the legs and flotsam/jetsam. Now-an important thing to know is that the tentacles/legs as well as flotsam and jetsam are NO SEW! I can't sew to save my life so these were done with hot glue and crazy glue.

The legs were he hardest part overall. My husband was away visiting college friends so I had a better part of a weekend home alone to get this done. I bought fabric for the tops and bottoms of the legs, light purple felt to draw the rings for the suckers, and teal colored fleece along with a couple small sheets of white and yellow felt for flotsam and jetsam.

The cost wasn't bad. This was about $80 overall. However I spent a lot of time on the legs eels and wig. If I did it all over I could save a lot of time with what I know now! The legs I loosely drew out and then sealed up the sides with hot glue. Tstuffed carefully and a little at a time with polyfill. To make them bend versus just hang, I straightened 6 hanger wires from the closet and stuck them in! I really think this was key. Ultimately they got attached to my corset with Velcro and hot glue for double support. The bent upwards and tucked into tulle skirt.

The wig. It was cheap and synthetic. I did have to trim the bottom. I needed a style to actually "hold" and no spray was working. Eventually learned about "pump it up" spray and boy that really worked!!!! So glad someone at the beauty supply store told me about it!

Flotsam and jetsam....I drew them onto cardboard first. Then cut those out and used as a stencil on the fleece.

I put small amounts of Velcro on the backs of them because the Velcro easily allowed them to lay on my tulle skirt. I didn't want to have to carry hem around like a wrap or get them dirty/purple from my body glitter.

I had some leftover fabric. So I made myself a purse! Again, no see! All hot glue. Just required some folds! I used the very edge of the black fabric and cut out a ring to use as a wristlet piece to carry the bag.

The necklace. I have shells all around my house. I also have little old necklaces I don't use anymore.
I drilled a hole in the shell and googled all over til I could find a mini light to slide into the shell! It was only a couple dollars.

If you're in a dark party I think it's so awesome to be able to light yourself up!

People stopped me lol night long telling me how much they loved my costume. For many girls it brought them back to such wonderful memories of being a child. Others just impressed at how obvious it was so much was done by hand. Most of the costumes were either Store bought locally or ones people had custom made for themselves. This was cool because it showed personal effort. I wasn't there to win a contest. That wasn't why I had done all that work. It was really because once I started it, I wanted to go all the way with it. I was an art major in college and don't have the opportunity anymore to do much in the way of arts and crafts.
Never had made a costume. As I said I can't see. But I was extremely proud of myself for being able to put this together. Sometimes you never know what you're capable of til you try!!