Lizard Man Costume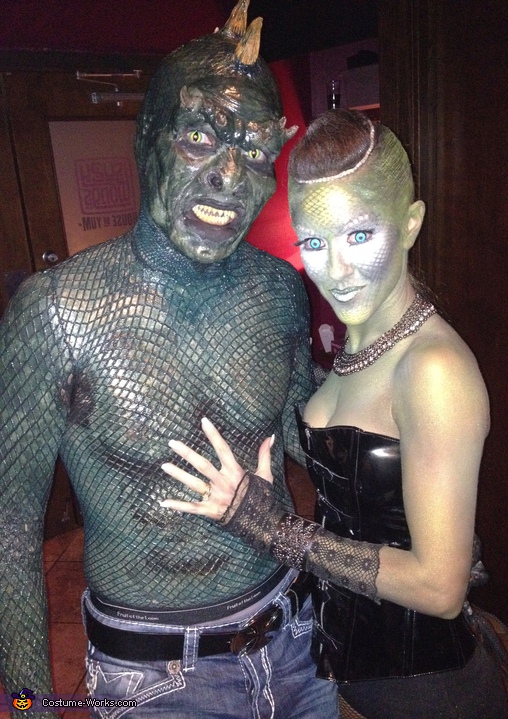 Lizard Man
More views:
(click to enlarge)
A word from Jason, the 'Lizard Man' costume creator:
I'm Jason and my fiance Anna is next to me. We wanted to go as lizard people. I don't remember where the idea came from but I most definitely took a page out of reptile-man's book from a few years back on this site. His picture came up a bunch when we did searches for lizard costume ideas although I tried to keep mine a bit simpler as I didn't have his kind of art skills. hahaha.
Supplies:
Latex body paint: black, green, tan -$40
Black makeup for eyes and mouth--$8
Yellow makeup for highlights on scales to give them depth--$4
Two packs of devil horns from local costume store for horns on head.--$11
Bald cap--$12
Fish net stockings and shirt--$11
Face prosthetic--$40
Contacts--$70
FX Gremlin teeth--$40
Time: 2 hours prep before the actual day and then 5 hours day of.
Total Cost:$236 plus a few arm hairs......
I taped the horns to the cap first off. Used black latex and covered the tape til it look smooth. Next I pulled the leg of one of the fish net stockings over my head with the bald cap and horns in place. Mixed the latex colors: 1 part green, 1.5 part tan, .75 part black. I made the last layer a bit darker just to make it a bit creepier. HAHAHA. Next I began painting latex on the cap with the fish net on. I put three to four coats on all over my head and overlapping a bit on my skin to hold the cap in place. I also painted my neck with latex to hold the netting in place before cutting my face out. Once I had all of that done I put on the fish net shirt and began putting latex all over that. BE CAREFUL HERE!! I shaved my chest but forgot about my arms. Big mistake when I took this off at the end of the night. It pulled almost all the hair out of my arm!! hahaha. OUCH!! Once I had three good layers on my body I put the face prosthetic in place. I had done some makeup on it ahead of time. Once it was on I began putting a single layer of latex over it and smoothing the edges of it with the rest of the head piece. The latex gave it the wet look which I thought added to the scarey factor. Although you would probably want to put the contacts in by this point I didn't. I thought it would be smarter to put the black eye makeup on. Made it kind of a mess trying to put the contacts in afterwards but was pretty funny to see me trying to put contacts in with latex hands. HAHAHA! My girl got a good laugh out of that one. Popped in the teeth and that was it. I only did my upper body cause I didn't want to buy another $30 worth of latex to do my legs and everything. Maybe next time. I'm sorry I don't have any pictures during the putting on of all the latex. I will hopefully have a link to the video we took to help anyone who wants to try this.
It was fun and I hope ya'll enjoy the pictures as much as I did putting it together!!!