Dilophosaurus and Dennis Nedry (Jurassic Park)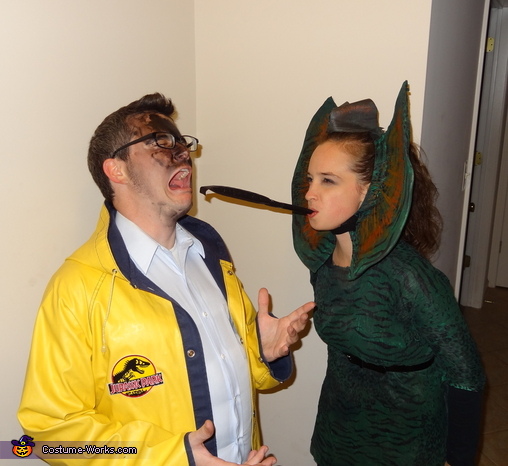 More views:
(click to enlarge)
A word from Tiffany, the 'Dilophosaurus and Dennis Nedry' costume creator:
Cory loves Jurassic Park! So when it came time to think of a costume we decided he would be Dennis Nedry and I (Tiffany) would be the dilophosaurus that spit on him. I made the dilophosaurus out of a pirate hat, cut it up, sewed a scarf on it and painted it to look more real. Dennis Nedry was made from an old raincoat we had laying around, we sewed a Jurassic Park patch on it, and completed it with a pillow to stuff his belly! Additional accessories were a black party blowout to look like the spit and the shaving cream can that Dennis used to steal the DNA. Overall it was around $50 for both costumes.