Young Maleficent Costume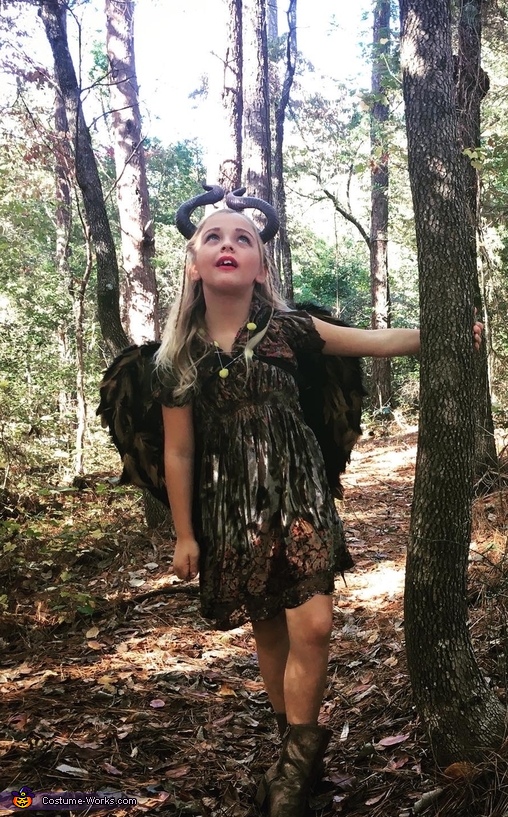 Young Malefienct in the Woods
More views:
(click to enlarge)
A word from Alyssa, the 'Young Maleficent' costume creator:
This is my daughter Kenzie as young Maleficent from the first Maleficent movie.
I made this costume for her.
I purchased some black horns from Walmart ($7) and painted them brown with acrylic paint.
To attach the Horn Headband to make it look like it was coming out of her skull, I pulled back the from part of her hair and pulled it back over to cover the head band and attached with bobby pins.
The wings I purchased black($10 used from Facebook Marketplace) as well-but didn't think they were enough. I spray painted them brown, and purchased various feathers from Hobby Lobby where I used hot glue (alot) to attach were I felt it would enhance them. (I spent $12 at Hobby Lobby-go when they have feathers 50% off)
Her dress was her grandmothers that I altered to fit her.(free)
Her make up was very natural. I put bronzer and highlighter on her cheeks, and highlighter on her brow and eyelids. Her lips were done with color stay lipstick.
Her Necklace was made from yellow pom poms that I strung together. (from my Hobby Lobby purchase)
Over all cost I probably spent $35, that includes spray paint.