Willy Wonka and the Oompa Loompas Costume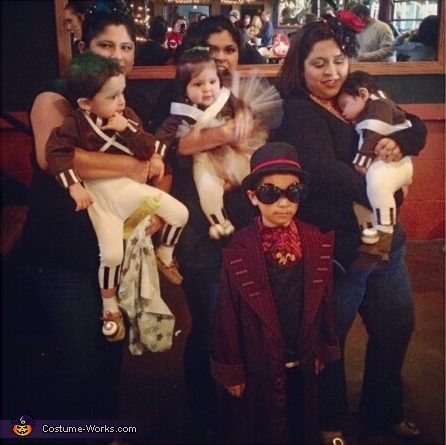 Willly Wonka and the Oompa Loompas
More views:
(click to enlarge)
A word from Rosangela, the 'Willy Wonka and the Oompa Loompas' costume creator:
My son Mateo (7 months), my nephew Felix (18 months), and my niece Sofia (8 months) are the Oompa Loompas. Aidan, my 7 yr old, is Willy Wonka. The idea came from brainstorming for something we could dress all the babies together as. The tops I made by using store bought turtlenecks. I made the white stripes with white ribbon and glued them on with hemming tape. For the pants, I used brown lace for the stripes. The buttons I cut out of hard felt and sewed on to the pants. The suspenders i cut from wide white ribbon. The spiral balls were made with Styrofoam balls and drawing the spirals with a brown marker. Some tips: i used a hair flat iron to heat up the hem tape when applying the ribbon. I sewed buttons on the front and back on the inside of the pants so that we could take the suspenders off with ease for diaper changes.
These costumes were a huge hit at our local annual Halloween Kid's party! They won 1st place in their age group!