Munsters Family Costume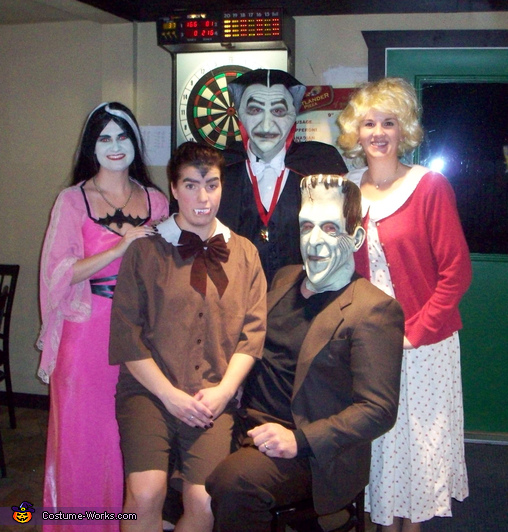 The Munsters
A word from Patricia, the 'The Munsters' costume creator:
Patricia "Lily Munster"
Norm "Herman Munster"
Lance "Grandpa Munster"
Beth "Marilyn Munster"
Nicole "Eddie Munster"
How-to: The Munsters
Lily's costume was made by sewing a pink prom dress with spaghetti straps & a pink chiffon, bell-sleeved shirt together and sewing black ribbon over the straps and around the neckline to give the illusion of one outfit. She wore black heels and black wig. The necklace was made by taking a hanging bat decoration and attaching a chain to it for the necklace. Paint face, draw thick eyebrows, along with heavy black eyeliner and shadow, voila done!
Herman's costume was made by him wearing brown clothing that was too small(suit jacket, pants and long-sleeved shirt) to create the effect that he was a big man and he wore platform shoes and a mask. Because the suit jacket was so small, he actually split the seam in the back when he bent over which made the costume PERFECT!
Grandpa's costume was created by him wearing a tuxedo from his wedding and black dress shoes, making a vampire pendant for his necklace (red ribbon and plastic star painted gold with glued on jewel), creating a cape (black fabric with ties) and wearing a mask.
Marilyn's costume was created by her wearing an old floral dress paired with a cardigan, blonde wig and heels.
Eddie's costume was created by her, that's right Eddie was a girl dressed up as a boy. We cut brown pants into shorts, paired with a button-up brown shirt with felt collar sewed on to create a collared look. The tie was a Christmas bow colored brown and fastened onto the shirt. We greased back her hair and painted on the widow's peak and eyebrows. She wore her socks pulled up with buckle loafers to top off the look.
Total cost to make all five costumes, including paint and makeup was $50. We love making our Halloween costumes, so we hope you enjoyed our work!