T-Rex Costume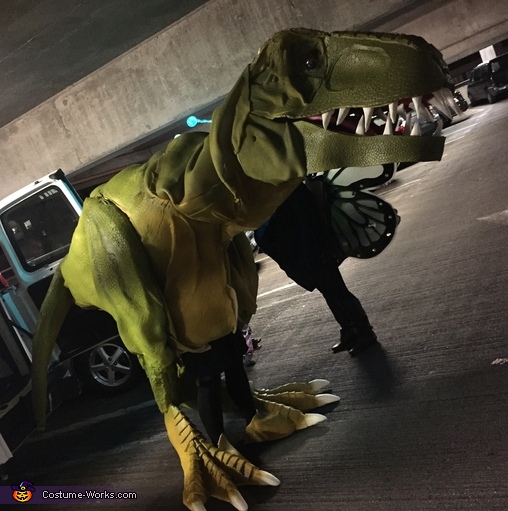 T-Rex Costume
More views:
(click to enlarge)
A word from Klay, the 'T-Rex' costume creator:
I'm wearing this costume. I got inspired by the old jurassic park movies and a YouTube video where a similar costumed dino is scaring people coming out of the elevator. There is a detailed how-to build description on www.instructables.com under partybot.

It is made from an aluminum backpack frame and then a somewhat complex neck linkage setup that allows handlebars inside to make the head turn/twist/pan/not. There are bike cables that will make the mouth chomp. On top of this I did detailed foam fabrication with L200 (cross linked polyethylene foam). Once that base "muscle" was complete, I added a 1/4" layer of open cell foam to form the wrinkled and textured skin over the entire suit. Other features include a backup camera mounted in the nose connected to a flat screen inside, allowing me to walk through the streets with no outside view holes at all. There are USB powered fans for cooling also.
www.facebook.com/partybotdesigns