Mini Mummy and The Tramp Costume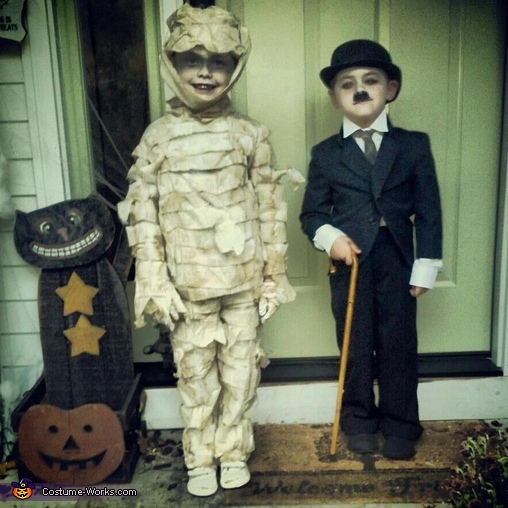 Old movie: Mini Mummy meets The Tramp (Little Charlie Chaplin)
A word from Jenn, the 'Mini Mummy and The Tramp' costume creator:
My twins are polar opposites and equally original! My "Mummy" Sean, loves old "monsters" and wanted to be a mummy badly! His costume was super easy! A muslin mummy costume that I tea dyed to look old and dirty and old sneakers that I painted white, off white and brown to match the aged look of his costume. I then just did "movie makeup" as best I could to make him look like he was in an old movie.
The Tramp was a even easier! I found a child's suit coat at the thrift store and we took it in in the waist and rounded the edges to make it resemble Charlie Chaplin's Tramp character's jacket. We found old black dress pants that were WAYYYY too big for Liam and sewed wide heavy weight plaid ribbon on to them to look like suspenders and added a plain white dress shirt and one of my Grandfathere's old wool tartan ties. Again at the thrift store I found little booties that were actually girls and pink that had the buttons going up the side that looked like old spats or old shoes, I then painted them with regular craft paint using black, grey and brown paint to make them look old and dirty. His derby, mustache and cane were ordered on line from a Halloween website. I again did the "old movie make up" on him too to replicate an old movie!