Medusa Costume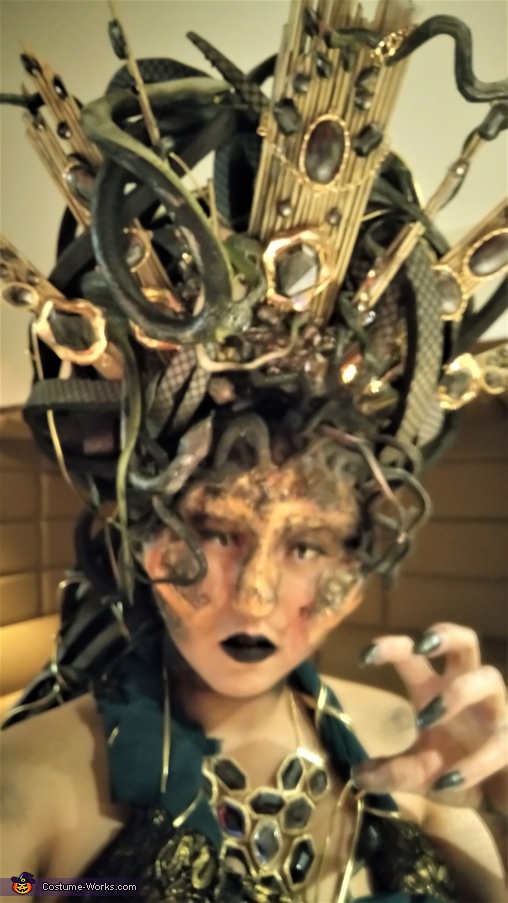 Face
More views:
(click to enlarge)
A word from Sandy, the 'Medusa' costume creator:
I wanted to make a wickedly cool costume for myself for the first time for a drag show costume contest. I really love Medusa and love that she is wickedly beautiful and a misunderstand monster maiden.
It originally was inspired by Ellimacmakeup tutorial of her verison of Medusa.

I follow the foundation of Elli's way of making the headdress and prosthetics but the rest I took inspiration from my idea of Medusa. Through multiple concept photos, make up tutorials of medusa and sleepless nights, I hade to finish this costume within 7 days(whiling working overtime at work) as I was determined to enter into a local costume contest, and WIN.

Outfit:I work at Fabricland and got different materials to create my outfit, got lots of jewels and trims to decorate everything cohesively to the look. I ripped different fabrics to tie them around me, to make it more authentic to Greek clothing. I wore a corset underneath to minimize my bulkiness from the fabric layers. I used gold lacing to run through my outfit to hold, and to accessorize the gown.

Headdress: Got a cheap wig, bought EVA foam that you lay on your floor, bamboo skewers, headband, and different gems and trims to decorate everything. I took a step further from the tutorial and painted the eva foam with snakeskin patterns to look more, "Believeable" as snakes. Cut the EVA form into strips, hot glued the hairless wig base that I cut the hair off, and molded the shape of the hair. I glued the skewers together on the headband, painted gold, and took a part lots of cheap jewel that I have at my work. I glued the headband on the wig, and formed more eva strips to the headband to make it look fuller. I bought fake snakes, painted them , and added to my headdress to fill in the "realness" of snakes. Ran the same gold cord on my outfit in the hair as I researched, a lot of Ancient Greek hairstyles, there was cording to tie their hair back. YES it was HEAVY and awarkward to wear. and it was 2 1/2 feet tall. Which helped looked grand and over the top.

Face: Got liquid latex, cotton balls and saranwrap to build the cheeks and forehead in two days (and it was my first time!). Added snakes in the latex to be realistic.

Makeup: I watched multiple of youtube makeup tutorials, and came up with lots of ideas to incorporate in my look (cause I'm not the best at makeup). Bought some SNAKE EYE contacts as well. I have mesh that you can use to make scale like designs, and used it in my makeup and some on my body. Creating that effect that I was turning into a snake. I didn't use green as a base colour for Medusa, cause it's been overdone and I really like how Ellimac did her makeup. It's more glamour, and dramatically beautiful. I stuck with golds and black, as I painted my face. I blocked my eyebrows, glue my prosthetics and worked the transformation. Glue on my eyelash and glue on some fake nails I prepainted with snake skin patterns.

and TA DAA! Everything except for the jewelry was handmade from scratch!

Cost wise, I think I spent about 120 (couldn't get snakes locally! ALL SOLD OUT had to order on amazon and paid for express shipping). It hurt being Medusa, which really helped me be in character. But I was so proud of myself that I conjured up the strength and willpower to create my vision. I loved how I made everyone at the drag show stopped "stone cold" with my costume. It's worth every penny, every burn and every torture wearing the costume.