Mama & Baby Scuba Cuties Costume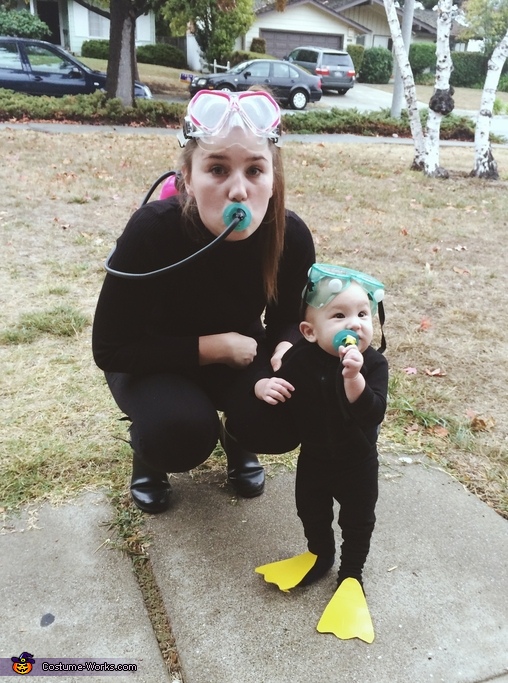 Mama & Baby Scuba Cuties
More views:
(click to enlarge)
A word from Sarah, the 'Mama & Baby Scuba Cuties' costume creator:
My son and I wore these costumes this past Halloween. I wanted to do something creative for my son's first Halloween so I did some searching online until I came across an idea I liked. I came across a picture on Pinterest of a scuba diving costume and decided to do my own take on it. The "supplies" I needed for this costumes were all tight black clothes, black socks, colored bottles, resistant/workout bands, electrical tape, duct tape, cardboard, goggles, pacifiers, and Velcro tape.
I started by putting our "wetsuits" (leggings and turtlenecks) on. I made cardboard cutouts in the shape of flippers and covered them in colored duct tape. I put Velcro tape on my son's socks and the bottom of the cardboard flippers so they would attach to his socks. Then I started making our "oxygen tanks". For the "tanks", I bought fabric cleaner that was in bright pink and yellow bottles. I emptied and thoroughly cleaned both of them then took the labels off both of them. I then cut the resistant bands and taped one side of them to each bottle with electrical tape. Then I used electrical and duct tape to attach the pacifiers to the other ends of the resistant bands. I put Velcro tape on the backs of our shirts and also the bottles so we could attach our "oxygen tanks" to the backs of our "wetsuits". The final touch was putting the goggles on.
I already had some of these items at home but I probably spent about $25 buying the rest of my supplies for both of our costumes. This costume was so fun to make!