Magician's Assistant from Beetlejuice Costume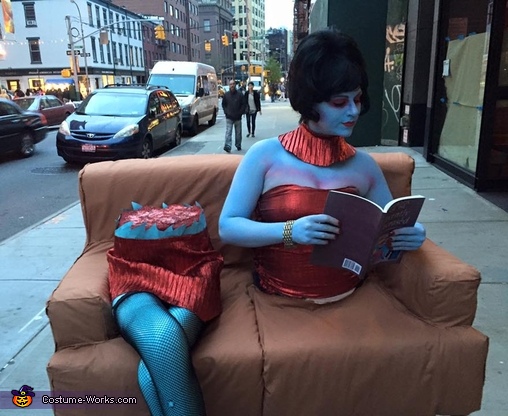 Magician's Assistant from Beetlejuice Costume
More views:
(click to enlarge)
A word from Valerie, the 'Magician's Assistant from Beetlejuice' costume creator:
This was the year I decided to pull off a costume I had been wanting to do for a long time. I had been "Miss Argentina" from the same movie, Beetlejuice, in the past and got a really good response.

For the sofa, I made a frame out of PVC pipe and attached rolling caster wheels. I made the cushions out of cardboard and adhered a thin sheet of batting over top. I sewed fabric like a slip cover and glued it all down. I cut a hole in one side for me to pop up through the bottom and reveal only my upper half.

The legs are from a mannequin supply store, already crossed with a torso. I used some of the extra batting and painted it red for the "cut". I spray painted the whole thing blue to match the body paint I was using. I found almost a perfect match for the fabric online, and using my mom's sewing machine made the collar, skirt and top. I ordered the beehive wig online. I used wire to keep the legs in place on the sofa. Turns out, this mannequin has my shoe size, and I used spray adhesive to keep the fishnet stockings in place.

I marched in the NYC village parade with this and had a LOT of technical difficulty. But, the crowd didn't seem to mind too much. Thankfully, I have crafty friends who were able to come up with solutions in a pinch (such as, jamming paper into the wheel threads to keep them in). I got so many great responses, a lot of people exclaiming that my costume was the "best ever"! And a lot of people wanting to take my picture, and pose with me.

The PVC and components were bought for maybe $15, the mannequin legs were $60, I had the cardboard and duct tape around the house. The fabric ordered online totaled $25 and the wig was $20. The makeup probably cost $20 more.
valoween.tumblr.com