Mad Hatter Dog Costume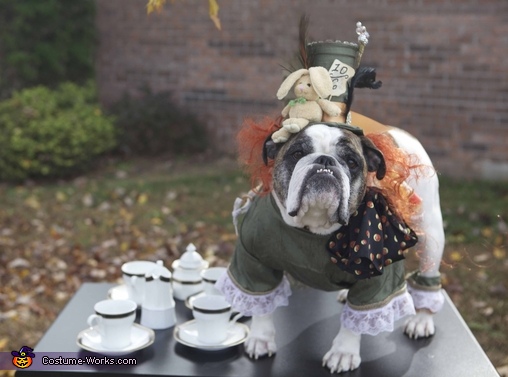 Zeelo waiting for his friends to show for the tea party!!
More views:
(click to enlarge)
A word from Tobi, the 'Mad Hatter' costume creator:
Zeelo is a 5 year old English Bulldog dressed as the Mad Hatter enjoying his tea party! Costume idea came from the popular Johnny Depp from Alice and Wonderland and the looking glass. Costume is handmade due to Zeelo's wide chest they do not close well around him. Hat is made out of a solo cup and covered in material along with other odds and ends things. His string of material along his jacket is old spools of thread my 93 year old grandmother had stored away. They made the perfect added accessory for his costume. The material was a piece of old curtain that was hanging in my grandmothers house and she was looking for a change. It was cut up to cover the solo cup hat and build the base of the costume. My grandmother still enjoys helping me design something every year for Zeelo and plays an active role in helping me sew things together! Overall cost $25 dollars if you were to go out and purchase the different pieces.