Lego Ninjago Cole Costume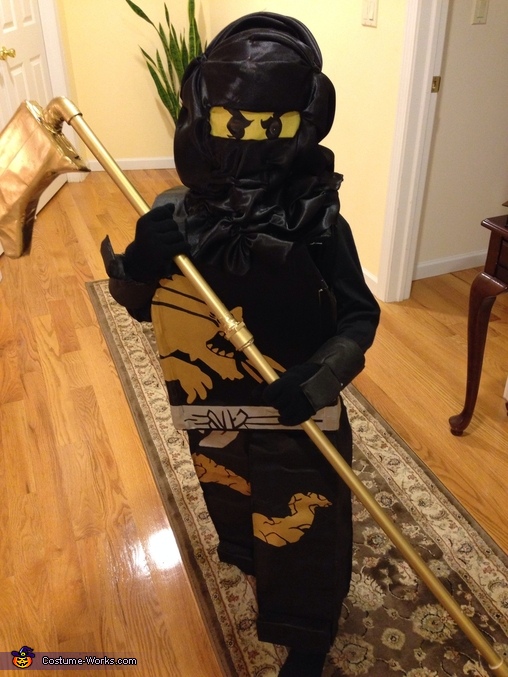 Lego ninjago
More views:
(click to enlarge)
A word from Tracy, the 'Lego Ninjago Cole' costume creator:
My son Dylan who is 6 loves lego ninjago. So we looked for a costume and there was no good ones out there, so I decided to try and make it.
The costume cost me about 75 to make.
The materials I used was poster board, regular moving boxes, lots of ducktap, Elmer's spray glue, satin material, spray paint, a helmet, a plastic mask, paint, tooling.
The head was the hardest, I used a plastic helmet and a plastic mask. I glued the two pieces together, then covered it with satin that i purchased. I used allot of spray glue and needle and thread to get that bunched up look. I used yellow material for the eyes and painted them free hand.
The body is just a cardboard box that is also covered in satin. I found a pattern online for this. Once I got the shape I wanted I covered it in satin, then hand painted the dragon.
The legs are also material but a more heavier fabric with panels within to keep the box shape.
The hands are just two plastic cups that I cut and used allot of duck tape to keep them in place than also covered in material.
The weapon is PVC piping, that I spray painted, the blade is Styrofoam that I cute into shape, and covered.