Jigsaw Costume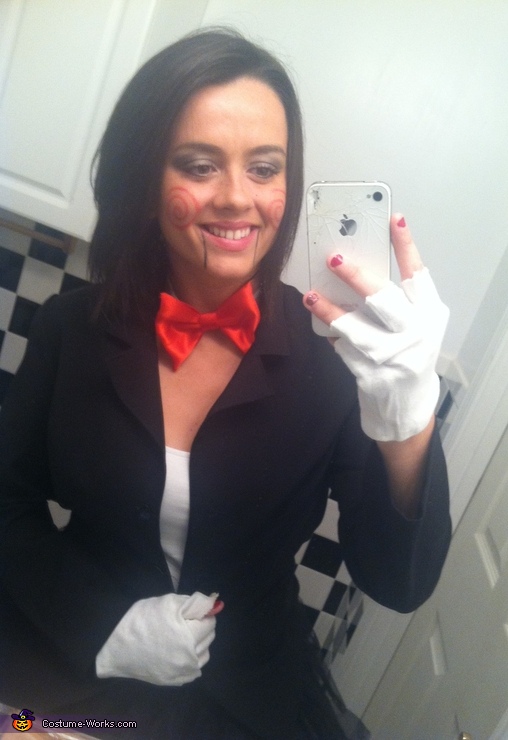 Jigsaw Costume
More views:
(click to enlarge)
A word from Jordan, the 'Jigsaw' costume creator:
I came by this costume by simply watching the movie. I thought it would be pretty neat to do but in a girly way. I honestly thought that this has been done before that there would be a costume you could buy online.. but no! The only thing I saw was a little girl on a tricycle. So I started to brainstorm.....
Clothing:
I went to goodwill to find a simple black blazer that i wouldn't mind messing up. Which ONLY cost me $4.00.
I also wore just a simple white tank top (that i already had) underneath cause i knew i wouldnt want to take the jacket off if i got too hot. So i recommend NO LONG SLEEVE SHIRT!
I went to party city to buy a simple pair of red fish nets. If your not comfortable with fish nets then definitely wear black or red leggings! (I wore old volleyball spandex as well)
I bought the tutu and the bow tie from party city.
The gloves were another item from party city but I cut the fingers out to show my red nails :)
I already had a pair of black boots (any kind work)
Make up:
For my lines under my mouth i just used eyeliner that I of course already had..
I used a facepaint "crayon" that you can buy anywhere such as; walmart for my swirls on my cheeks.
I did a smokey eye for my eyeshadow. You can tutorial that on youtube.
I also used my moms old red lipstick thats way out of style!
Blazer glitter:
I went to a craft store for fabric glue and i bought a tube of glitter and wrote "Wanna play a game?". You could also do "Game over". (BEWARE GLITTER IS A HASSLE)