Jessie from Toy Story Costume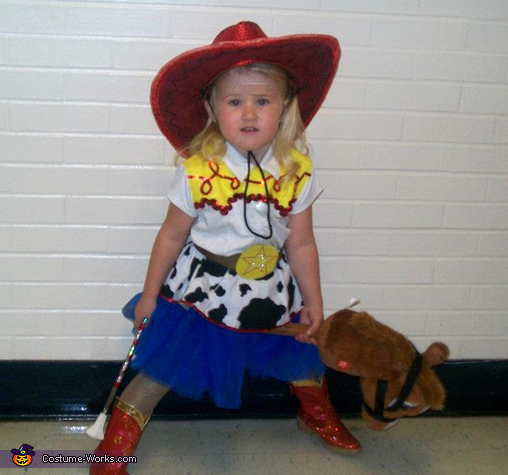 Jessie "Toy Story"
A word from Audrey, the 'Toy Story Jessie' costume creator:
My daughter was 3 when she wore this for a baton recital to "you've got a friend in me" and then for Halloween. I wanted something girlie and most store bought Jessie costumes were just pants. I started with an old white dress shirt and glues yellow fabric onto it like Jessie's shirt and finished this with lots of red sequins and attached it to a pr of underwear that i dyed yellow with lace ruffles on the butt(so it formed a leotard). I ordered the blue tutu from ebay and made the skirt of cow print and trimed the cowprint in red sequins too. Her belt is a round pc of cardboard that I glues yellow fabric to cover and again added sequins and attached the belt buckle to a wide pc of brown ribbon and paired with red lightup cowboy hat and Disney Jessie boots.Cost: shirt-$3.00 tutu-$5.00 overskirt-$2.00 belt-$1.00 hat-$5.00 and boots-$20.00 total=$36.00....She is holding her hobby horse "bull's eye" and baton in picture not part of costume...pic is from recital.