Homemade Jellyfish Costume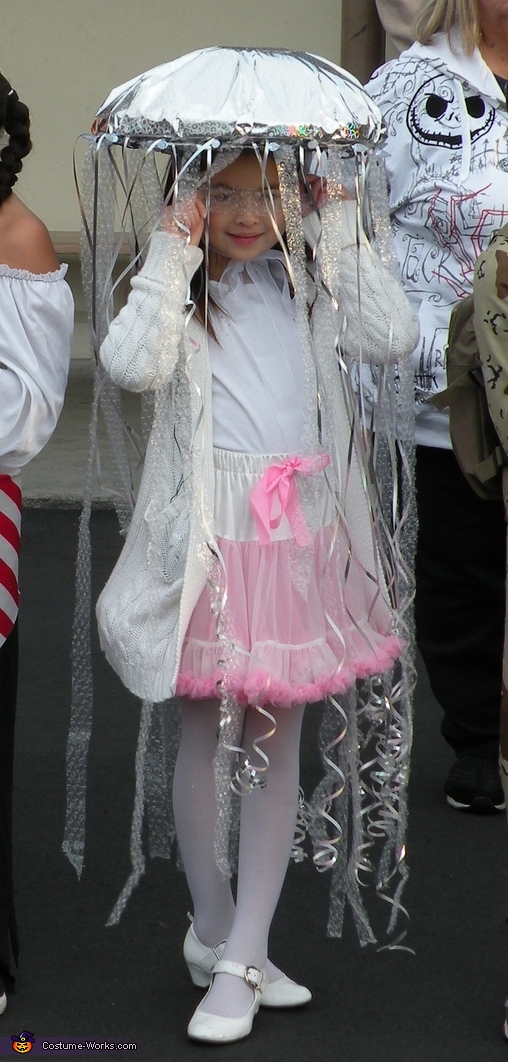 Thats Emma in her homemade Jellyfish costume
More views:
(click to enlarge)
A word from Regina, the 'Jellyfish' costume creator:
I made a Jellyfish costume for my daughter Emma and she won 2 awards in school for Most Unusual Costume!
At first, when I saw someone made a Jellyfish by using umbrellas and just a few strings and I didn't like the umbrella top but thought I could do one by creating a softer looks to make it realistic and soft jellyfish.
It has to be homemade to be unique! So I used mainly recycled stuffs we find in the garage. It came out pretty good as total cost of costume is under $8!
First we have a 2x2ft foam I saved a few years back from something we bought and came in a box...measure Emma's head around and cut the centre to fit into head. Then I meansure about 5inch of centre and cut it around. I then cut a piece of unwanted curtain soft cloth to wrap around top of hat foam giving room to stuff with shredded papers, creating a puff out round top. After its stuffed well, I sealed with glue so it stays. Then wrap the top with silver gift wrapper and glue to bottom of foam. Cut silver/white ribbons and bubble wraps as "tentacles" each about 4ft long and glue around bottom of Jellyfish head. Curl a little of bottom of ribbon below by running with a scissor. I attached 2ft long ribbons on each side (near ear)so when she puts it on..she could tie the ribbons under her chin to hold the Jellyfish.
Bought battery lights at Lowes and tape around bottom of Jellyfish "hat". Thats it! Homemade Jellyfish!
Hope you like it...I had moms coming to me asking me how to do it...they were so surprised it didn't cost much and it was a wonderful feeling that Emma loves that she got so many compliments! She is asking whats next year costume now!:)