Home on the Range Costume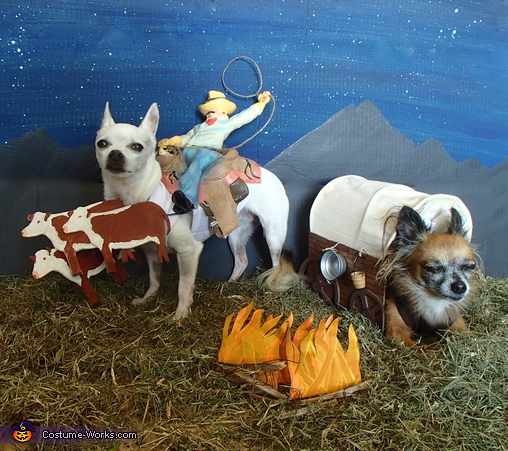 Home on the Range
More views:
(click to enlarge)
A word from Sasha, the 'Home on the Range' costume creator:
Noodle is a Cowboy in honor of her daddy who is a real life cowboy. She is herding cattle out on the range and a cowboy has to eat while on a cattle drive, so Twinkie is a chuck wagon.
I created the wagon using foam, cardboard, acrylic paint and miniature embellishments from the doll house section of Hobby Lobby. The entire costume is lightweight and attached to a shirt with velcro for easy on/off. Twinkie was a rescue and when we adopted her there was no skin on her entire back. It took 3 surgeries to repair. I put a layer of foam under the wagon so that it doesn't rub on Twinkie's scars.
I made the cows from foam, painted them with acrylic paint and attached them to Noodle's outfit with armature wire. I sewed fabric pouches on the back of the cows and into Noodle's shirt so the wire can easily be attached/removed. I sewed the cowboy onto the shirt so he stays on her back and I added cotton batting under him so he bounces when she walks, looking like he is really riding a horse. It's so funny!
Our whole goal is to make people happy and these outfits really do that! The dogs like to dress up, they love the attention they get when they do. Noodle is normally skittish (a rescue from the streets) but she really struts around when in costume, full of confidence. People crack up when they see the dogs coming.