Hindu Goddess Kali & God Shiva Couples Costume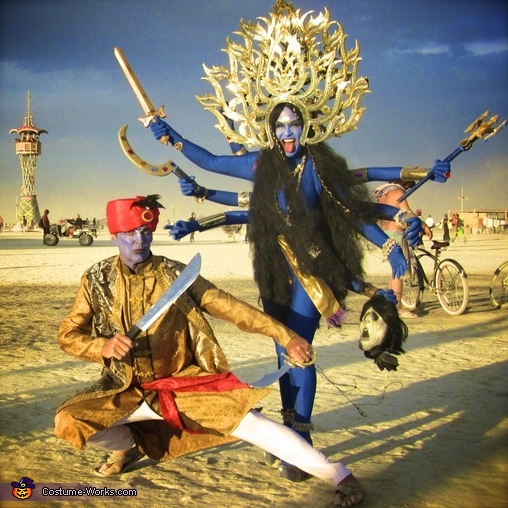 Hindu Goddess Kali and God Shiva
More views:
(click to enlarge)
A word from Steph, the 'Hindu Goddess Kali & God Shiva' costume creator:
"Kali" is the Hindu Goddess of destruction and rebirth. She represents darkness, while her partner "Shiva" represents light. Without the dark, there can be no light. Kali also slays demons and the human ego. I was inspired to create this costume so I could learn about Hindu Gods and their historical stories.

I am only 5 feet tall so I had to find bendable USED teen women's mannequin arms which I detached from 3 torsos. I then took a piece of wood and covered it with foam. I screwed 6 mounting plates into the wood and slid the arm brackets into them, then glued them. I then covered the board with foam, blue fabric and mounted on back-pack arms. I cut 6 arms off 3 blue morph suits and bejewelled all arms and fingers. I stuffed a demon head full of paper and spray painted and bejeweled various weapons and velcro-ed them onto the arms. I sewed 2 witch wigs together so the hair would cover the back. I spray painted some of my platform shoes blue and bejeweled them. I bought a crown and bejeweled it. I tied sculls around my waist and neck. I added colored contacts and ate a red, raw beet so my tongue would be red. I painted my face blue and painted on a gold 3rd eye and Hindu eye markings, along with fake eyelashes. The cost was approx. $150 with most of the items coming from consignment stores.

It's a fun costume because people try to shake your fake arms. The most difficult part is movement and not being able to use the restroom for 4-5 hours. lol ....But it's worth it because it's so much fun!! :)

I dressed my husband up as the God Shiva, painted his face and made his headdress so he could be my accessory. ;) RAWR!
http://www.facebook.com/StephanyAlexander