Flintstones Costume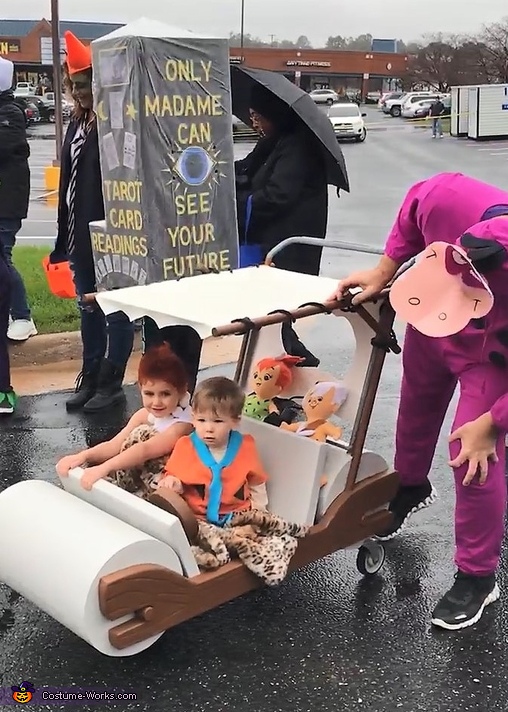 Winners in Bel Air
More views:
(click to enlarge)
A word from Thomas, the 'Flintstones' costume creator:
I watched the Flintstones through much of my youth, so when I was brain storming on a costume for my son It did take long to think of this car. I bought a shopping cart from Toys"R"Us when they went out of business, removed the basket and started building. I wanted to make sure the car was very sturdy so I used 2 inch x 8 inch wood for the side panels, 2 inch x 12 inch wood for seat and dash board. I drew my pattern, cut it out, and carved wood grains in the side panels. The wheels were made from concrete forms supported by circular wooden cut outs. The top was made from wooden poles, leather bought at
Jo-ann fabric, and black rope. The wheels were painted with Deck Rescue to get a textured stone look while the wooden parts were painted brown using a darker brown on the carved grains. Next, I made Fred's costume from fabric bought at Jo-ann Fabic. After completing the car, and Fred's costume a friend heard we were doing this, and got excited to have her daughter play Wilma instead of Elsa from Frozen "AGAIN", so she hand made her costume. All of us had a blast, we won 2 local contests, and I know these two cuties have brought a lot of Joy to everyone that have seen them.