Escape from Area 51 Costume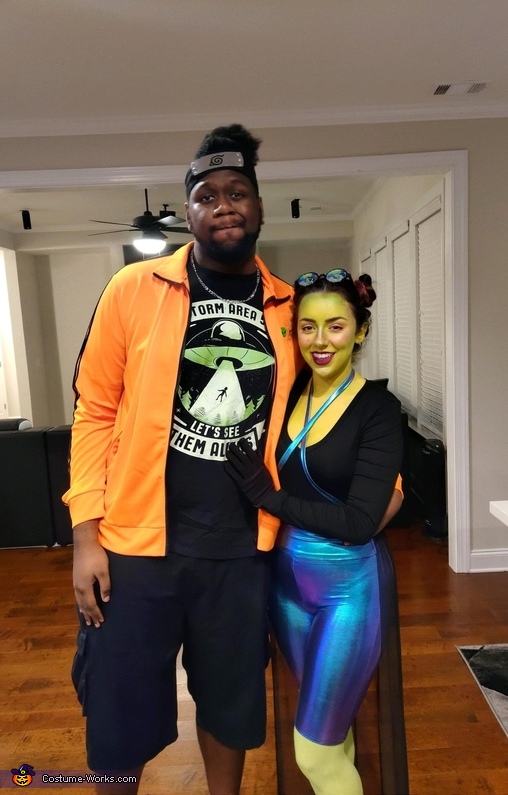 A Naruto Runner and his Alien Bae
A word from Jordan, the 'Escape from Area 51' costume creator:
My boyfriend, Elijah, and I dressed up as an alien and a "Naruto runner" for Halloween this year. I drew inspiration for the costume from all of the memes leading up to the September 20th "raid on area 51." The memes about "naruto runners" raiding area 51 were not as wide spread as some of the others, but they definitely appealed to our interests the most.

I feel the costume turned out to be a unique time capsule for 2019,and a great reflection of modern internet culture.

The main standout pieces of my costume were handmade. I found some super cool holographic fabric and JoAnn Fabric and Craft store, and I drafted the patterns for my biker shorts and skirt/cape from scratch. I worked on sewing everything over the course of about two weeks. To pull the costume together, I bought a black bodysuit, kaleidoscope glasses, and green tights on Amazon. I painted my face and chest using Graftobian Pro Paint in "alien green," and I contoured using Colourpop eyeshadow. For the final touch, I styled my hair in "space buns."

For Elijah's "Naruto Runner" costume I bought all of the pieces on Amazon. I found an orange track jacket and Leaf Village headband to make the Naruto reference very obvious. Then, to tie it back in to the Area 51 raid theme, I found a green and black "Raid Area 51" t-shirt and a little green alien lapel pin. I then crocheted his hair (which is usually very short) to give it an anime inspired flair.

I had a really good time putting these costumes together and bringing this 2019 meme to life!