DIY DJ Marshmello Costume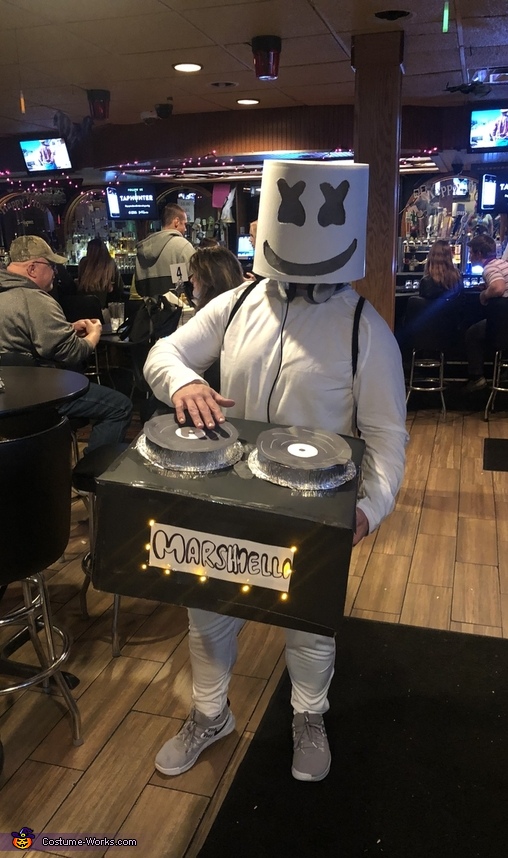 DJ Marshmello
More views:
(click to enlarge)
A word from Natasha, the 'DJ Marshmello' costume creator:
This is my beloved husband wearing his homemade DJ marshmello costume. The costume was completely homemade. He started the costume idea from our love of this edm artist. Marshmello is a very popular DJ and my husband and I really like his music. This artist wears all white and a very unique white helmet with a smiley face on his helmet. For his costume clothing he purchased white athletic clothing at a sports apparel store. The cost of the clothing was about $50 due to brand. Marshmello typically wears adidas or puma white clothing. The next step was to make the helmet. I was the one who crafted that due to my ability with knives. I am not afraid to use them and have a steady hand. I watched a few YouTube videos on how to construct a mellohead and collected all of the materials out of my momís basement since she has a really big junk area, except the white duct tape and hat needed to adhere inside of the helmet. Materials needed for helmet include a White five gallon bucket, sandpaper,
White spray paint, gardening screens, exacto knife or box cutter ,white duct tape, measuring tape, sharpie, and a hat. The directions online instruct you to print off some stencils of his face and measure the shapes and draw them on the bucket with the sharpie. Cut the helmet bottom off the bucket with blade. Cut the shapes out. File the edges. Tape the screen inside of the helmet and attach a hat inside of the helmet to wear on your head to prevent it from sliding around. Paint the entire helmet. Sand again. Took about three hours. This project is not for anyone inexperienced in crafts, it will take a steady hand and much patience. Next step was to construct his DJ booth. We used an empty box and cut off the flaps. Then we covered it in black poster board. We used disposable pie plates to make the turn tables. Then we used construction paper to cut out circles to make his records. We used various round things found in our kitchen to make the perfect cirlces and cut them out. Glued them to the pie plates. We then made his Dj name plate with a sharpie and construction paper and glued it to the front of the box. We used lettering like he has his logo to make it more believeable. Then we added led lights from dollar tree to make his logo stand out. Next we cut out handles on each side of the box to have him hold the booth easier when he would be holding it. The DJ booth took us both about two hours to make together. Total cost for us, was just about $65 for the whole costume but we found almost all of the helmet materials and didnít have to purchase any of those. Cost retail on those items will run you around $25-$30 depending on what items you are needing to purchase. He also wore headphones around his neck when we went out. We already owned the headphones. We went to several barsí Halloween costume contests and he won first place at a bar. Everyone kept taking his picture and the bar said this was the best costume they ever saw. He really stole the show in this exciting and believable disguise. This costume can be worn by a man or a woman.