Voodoo Baron Samedi and Madame Brigitte Costume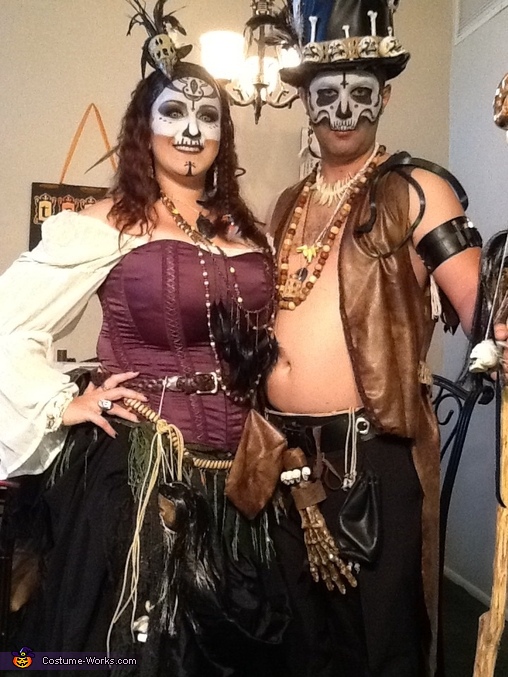 My husband and I
More views:
(click to enlarge)
A word from Valerie, the 'Baron Samedi and Madame Brigitte' costume creator:
My husbands and I are dressed as two very prominent figures in the voodoo community, Baron Samedi and his wife Madame Brigitte.
The skirts and bustle, the brown vest, headpiece, top hat, staff and larger accessories were all handmade.
The shrunken heads, chicken feet, fetish mummy hand, and vulture skull headpiece were are sculpted with Sculpey clay and .22 gauge jeweler's wire then painted with acrylic paint and mod podge. I also did the face paint. I use Mehron and Ben Nye, because it's professional grade and lasts all night. It costs just as much as regular face paint from any party store and is much better quality.
I tend to take elements from other costumes and modify them to save on time and money. The bustle and top hat are from our handmade steampunk costumes (which is another costume entry) it's easy to attach things with a bit of hot glue or thread so it can easily be removed and reused again.
The tribal necklaces were purchased from a thrift store for a few dollars, but the beads and earrings were sculpted by me. My husband does not have pierced ears and clip ons tend to hurt or fall off, so I made him a special behind the ear earring and he loved it. The staff was a tree branch that we've used for other costumes with a dollar store skull on it. I repainted the skull and put a real voodoo veve symbol on it. It's the veve for the crossroads between worlds...the living and the dead.
I also found a little doll at the thrift store and made it into a voodoo doll. That is the real symbol for a love spell painted on there. The symbol painted on my husbands arm is the veve for Baron Semedi himself.
In case you didn't know, I'm big on small details. I even made my husband a necklace of rotted teeth. Im a dental assistant and it was a little nod tonwards my profession lol.
The corset and undershirt are items I've had for years, and my husbands pants are regular dress pants. I incorporated new fabrics, like the snakeskin and faux leather.
We had a lot of fun making these and even more fun at the event we went to last night. It's called ZombiCon and its held every year in Downtown Ft. Myers, FL. W even made the local news and were finalists in their costume contest!
My advice is to use what you have in your closet and modify. Shop at thrift stores and yard sales. With a little imagination, sculpt and paint rather than purchase cheap decorations. It will last longer and it's more cost effective, plus it looks real. We spent a grand total of $50, just for 3 yards of new fabric and a block of clay.