Alice in Wonderland Family Costume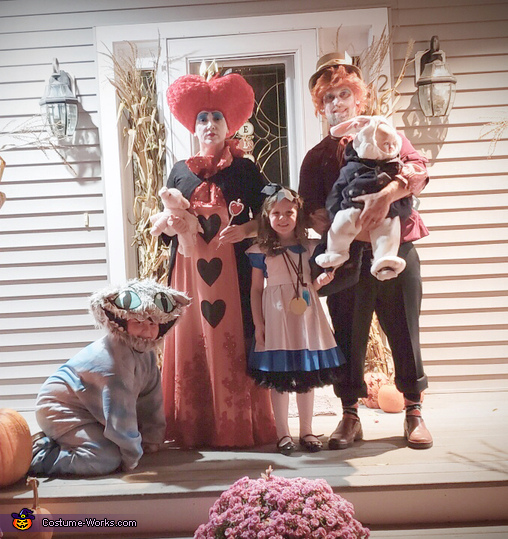 Alice in Wonderland Family
More views:
(click to enlarge)
A word from Jamie, the 'Alice in Wonderland Family' costume creator:
Jamie (Mom) is the Queen of Hearts. Her dress was made from her motherís old wedding dress. She dyed the dress red & painted hearts on it. (The dress had been ruined prior and this was the best way to bring it back to life) The pig & wand came from her daughters toy box.
Derrick (Dad) is the Mad Hatter. His jacket, shirt and hat were all made from an old Willy Wonka Costume we put together a few years ago. The wig was from an old Chucky costume. The rest of his outfit came straight out of our closets.
Xavier is the Cheshire Cat. I bought a grey sweatsuit and spray painted striped on it.
Carly is Alice. I bought her dress online, but made some of her props. For example - her ďDrink MeĒ potion is a nip of vodka tied onto a necklace (donít judge me! haha)
Kingston is the White Rabbit. Isnít he the most adorable rabbit you ever did see?