Woodland Fairy Costume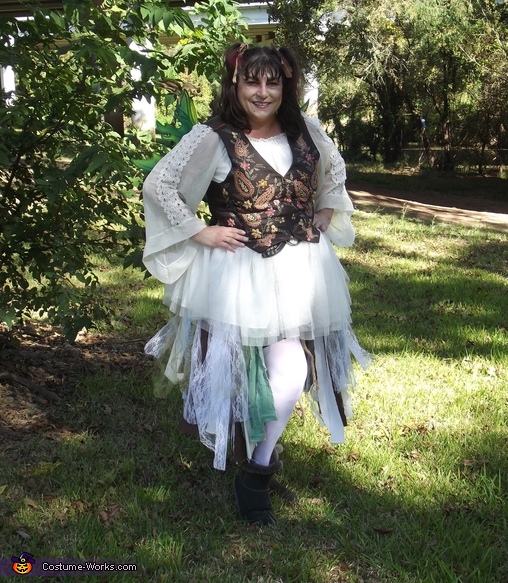 Woodland Fairy Costume
More views:
(click to enlarge)
A word from Kara, the 'Woodland Fairy' costume creator:
My costume was made by myself from fabric, twigs, and thrifted items. I made my skirt by shredding fabrics and layering them over a belt. My staff is a converted walking stick. I took moss covered wire from the craft store and wrapped around the walking stick and a pair of antlers. The horns of the antlers were the base for the small bird and nest. I then added bells, butterflies and flowers to complete my staff. The vest was found at the Goodwill but was a size XS. I completely deconstructed the vest, added leather panels to the back to widen it and mounted by wings to the leather backing. The rest of the items like my shirt and shoes came from local thrift stores.
The inspiration for the Woodland Fairy came from my surroundings and my love of nature. I live in Texas, and the woods are but a few feet away. I always enjoy watching the small birds and squirrels come out, so that was part of my inspiration for the costume.
I hope y'all enjoy this costume!