Voodoo Doll and Witch Doctor Costume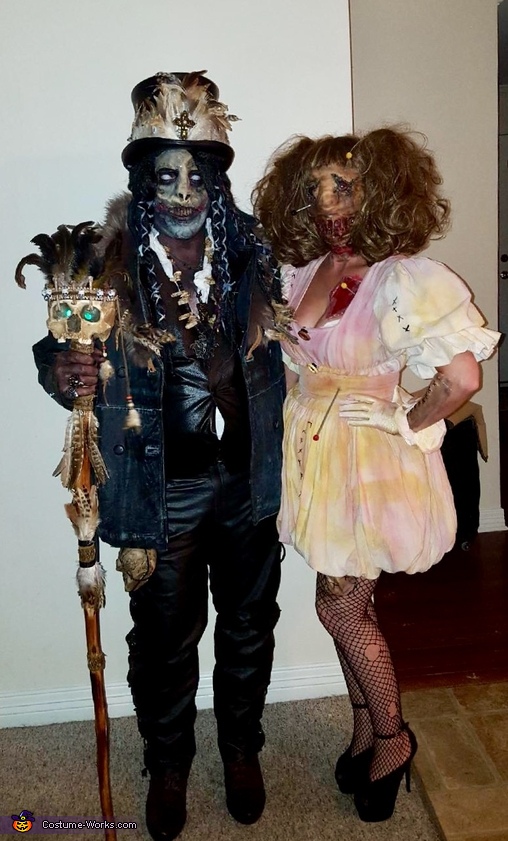 Witch Doctor/Voodoo Doll- Couple
More views:
(click to enlarge)
A word from Brandy, the 'Voodoo Doll and Witch Doctor' costume creator:
Hi! My husband and I dressed up this year as a Witch Doctor and voodoo doll. Our face masks are completely handmade. We created a cast of each of our faces so we could design the pieces specifically for our faces. We used liquid latex to create the face pieces and painted them with an airbrush. My husband made his "Shaw" on his jacket with fur fabric and feathers as well as the band on his hat. The jacket and pants were purchased at a second-hand store and adjusted to fit him as well as weathered with a sandblaster. I bought a white dress for my voodoo doll costume and soaked it in a sink full of tea to give it that old/worn coloring. I then sprayed it with raspberry tea in places to appear blood soaked. I cut up an old stocking and filled with cinnamon and flour and then patted that against the dress while wet. This made the dress look dirty without really rolling it around in the front yard! We made latex strips for my legs and arms where I placed cross stitches to make it look like I was an old doll that had been repaired.

He and I do a couples costume each year and truly love spending the time being creative together. We've been married for 11 years and have four children. We look forward to Halloween every year!!!