Toy Story 3 Family Costume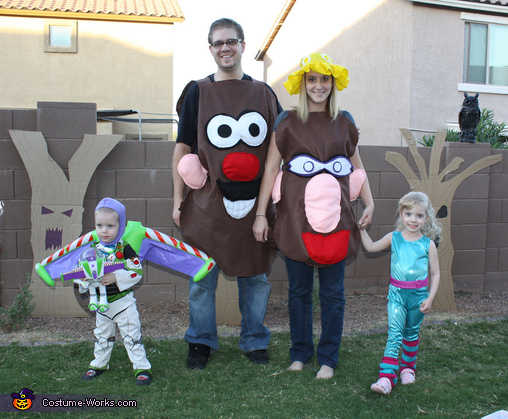 Toy Story 3 family
More views:
(click to enlarge)
A word from Shalin, the 'Toy Story 3 Family' costume creator:
Since my son was in LOVE with Buzz a few years ago, we decided to base our costumes around him! My daughter is a HUGE girlie girl, so Barbie was a natural choice for her as well. My hubs and I decided on Mr. & Mrs. Potatohead, I think I saw the idea somewhere online for the felt costumes. We usually try to make a lot of our costumes since I sew.
Since it was simple to just get Buzz, and not really a good costume to even hand make, we just bought his.
They didn't even make a costume for the 3rd Toy Story Barbie doll, so I knew that we had to make the costume. I made a pattern off of a tank and some pants I had for my daughter, and then I just sewed it together to make it a one piece, with velcro in the back. I made some little shoe slippers out of some shimmery pink fabric, and made the hair tie to match. I didn't know how to knit so I had a friend knit the leg warmers. My other friend had a hair piece that matched my daughters hair exactly so I just put it up in her pony & it worked fabulous! She was a super cute barbie, all she was missing was Ken!
We made the Mr. & Mrs. Potatohead just from looking at photos & trying stuff out, wasn't that complicated but I usually make a lot of our costumes so I have experience with that. I thought they turned out really cute.
It was so much fun to be all dressed up as a theme, especially a theme my kids loved so much! I think all the homemade ones, so the potatohead family & barbie were probably about $50, then Buzz costume we had borrowed but I would guess it was like $30 or so. So total was maybe around $80-100.
www.aperfectmemory.com