The Human Cactus Costume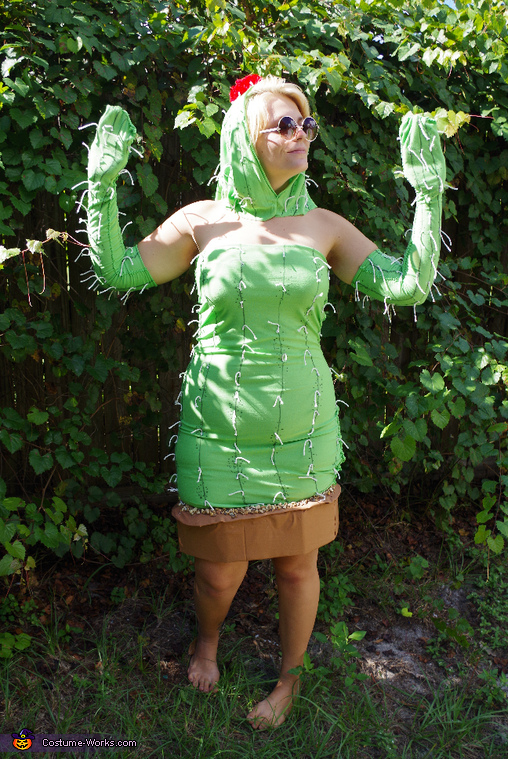 Soaking in the Sun
More views:
(click to enlarge)
A word from Alexa, the 'The Human Cactus' costume creator:
This is me, Alexa, wearing by far my favorite Halloween costume I've ever made! This past year (2015), I've really taken up gardening (vegetables, trees, flowers, foliage, ect.), but there's nothing like my adoration for my cacti!
I often spend time searching for cactus t-shirts, planters, jewelry, any cute merchandise-you name it, on the internet and once Halloween season came about...there was only one clear idea in my mind: Human/Cactus Hybrid!

I spent one day buying the materials ($15 not too shabby), and in my procrastinating nature, waited until 2 days before Halloween to finish putting it all together!

I hand sewn the body (dress), the sleeves, and the hood, drew black lines for detail and hot glued some cut-up pieces of white string (for the spines), and a few red flowers on the hood. The pot is simply cut-out cardboard (sized after trial and error...and error) with brown fabric hot-glued, as well as a few pebbles hot-glued for decoration.

If anyone is to try this costume out for themselves, I recommend just purchasing a green stretchy body-suit, and adding accessories accordingly (may be a bit easier than sewing your own body pieces!).

This Halloween I've gotten so much positive feedback about this costume and It'll be tough to top it next year!