The House from UP Costume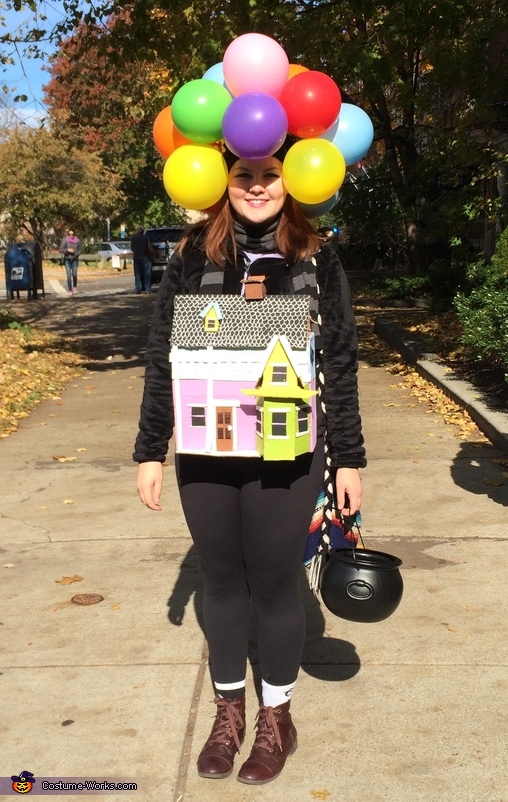 The House from UP Costume
More views:
(click to enlarge)
A word from Jessica, the 'The House from UP' costume creator:
My boyfriend and I have been cosplaying for years now, and we both wanted to go as a couples costume. Since I have recently moved to Boston, we thought it would be cute do emulate our favorite movie, Disney-Pixar's UP. I decided to be the house, because in a way, I had to float away from him, but he was the old man back in Virginia where we are from, where he is pursuing his dream of becoming a film maker. We thought the separation element was appropriate, and linked us together in a way. I brought my kazoo around al day and kazoo'd the theme song to UP, while skyping my adventures with him.


I used old cardboard boxes from the dumpster behind my apartment building to make the form of the house, cutting out each individual piece. I then painted them with acrylic paint that matched the photo of the house, and the hot glued them together. I used twine to hold up the house itself around my neck like a necklace. I then took a beanie hat and safety pins and blew up latex balloons to about half their size, and went around in circles around the hat pinning them together. I decided to wear all back underneath so the image could be of the house alone.


A lot of people on the streets of Boston would stop me and ask to take pictures with me and their kids. They would ask me how I made the house and if I actually made it or bought it somewhere. There were a lot of comments on my balloon hat and kazoo as well. Cars would stop by me and honk, smiling and showing thumbs up. I was on the big screen at Fenway Park during their Trick or Treat festival on Halloween, and multiple parents and kids who were also Disney characters could come and ask me to go "UP".


I love kazoo, and I know there is not a video element to this entry, but it played a large part in the aesthetic of my costume. Being able to sing and hum the "Marriage Song" from "UP" all day was such an "up"lifting experience!