The Artist Formerly Known as Prince Costume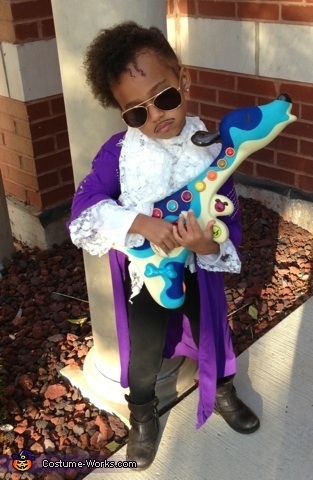 The Artist Formerly Known As...
More views:
(click to enlarge)
A word from Carla, the 'The Artist Formerly Known as Prince' costume creator:
My daughter Kennedy (age 4) is wearing this "Artist Formerly Known As/ Prince" costume.

The idea was inspired by Kennedy's love for good music and Rock N' Roll (No, she doesn't listen to all of his music)

This was such a simple and fun costume to make!!

Jacket: I couldn't find a purple jacket to fit my daughter nor did I want to spend a lot of money, so I took the jacket from an old "Joker" (Batman) children's costume that I had. The jacket came with an attached green vest, which I cut out, so that I could leave the jacket open. Your jacket doesn't have to be Purple. You could do leaopard print, or use just about any jacket.

When I removed the jacket from the original Joker costume packaging, it was still a little big, so I used hemming tape and a glue gun to make it smaller. I had my daughter try it on, and I rolled up the sleeves and the bottom of the jacket to create the size that fit her best , and put a safety pin to hold the hem in place.

After cutting, and hemming (via glue gun) the bottom of the jacket and sleeves a bit to fit my daughter; I used one packet of cheap iron on jewels that I picked up at my local craft store ($3.00), and used the hot glue gun to adhere them to the fabric. I wanted to create a jacket similar to Prince, so I knew that jewels and all things shiny would do the trick.

The shirt, and the lace sleeves: Instead of searching for and spending money on a lace shirt (It would be difficult to find this in a toddler's size), I purchased lace scraps from my local craft store. You'll find that a lot of fabric stores sell discounted lace and other fabrics, and all you need is a little bit (1/4 yard). The lace cost me $7.00. I took the lace and cut a strip of it, and adhered it to one sleeve-- and left a lot of it hanging out to create the "bell sleeve" look. I then did it for the other sleeve.

I took one of Kennedy's pre-worn, white t-shirts (long sleeve), and created a rouching/ layering/ wave effect with the lace on the front of the shirt. I used just enough lace to cover the space on the front so that when the jacket is open, you just see the lace -- similiar to how Prince's shirts look. You don't have to do this for the whole shirt.

Kennedy is wearing a pair of black leggings that were already in her closet, her guitar was a toy that she already had, her babyaviator sunglasses were picked up from a local Target (she already had these), and her boots were already hers.

This costume cost me less than $20 to make, and took me a total of 1 1/2 hour, which includes the trip to the craft store, and the total start to finish time.

P.S. I don't know how to sew and this costume did not require any stitching or needle work, so this is definitely something that a glue gun or strong fabric glue could accomplish.