SpongeBob Characters Costume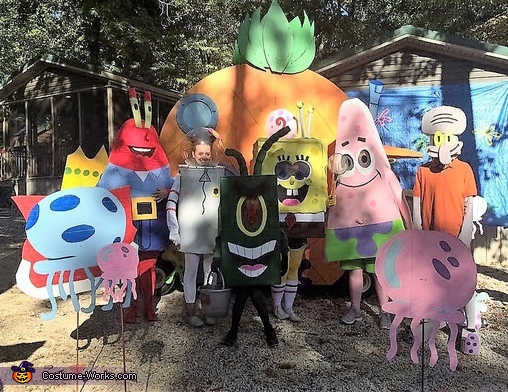 The Group
More views:
(click to enlarge)
A word from Mary, the 'SpongeBob Characters' costume creator:
I made these costumes for our annual Halloween weekend at Lake Rudolph in Santa Clause, Indiana. Each year our group (myself, my twins, Mary & Michael, two of their friends, Nick and Olivia, and a family friend, Gabriela) try to come up with a group theme that will appeal to all ages. This year my son said "let's do SpongeBob." The costumes were challenging but turned out great. The children loved them and we loved being celebrities for the day when wearing the costumes.

To make the costumes I started with SpongeBob. The base is a cardboard box. I then covered the box with 1/2" green craft foam. To make the wavy affect on the sides I rolled the foam and glued it down in various spots. I then covered the foam covered box with yellow flannel. I used white, red, brown and black flannel for SpongeBob's shirt, shorts, tie and belt. I used colored foam sheet to make his mouth and tongue. I cut out eye holes and covered them with white netting so Olivia (who wore this costume) could see and breath. I cut arm holes to fit Olivia and put in straps on the inside so the costume would rest on her shoulders. I cut out circles of yellow flannel and painted them for the sponge holes. Olivia then wore yellow stockings, white knee highs (w/ tape for the red and blue stripes) and a yellow long sleeve tee shirt to complete the costume. I then made a Gary using cardboard and flannel and glued this on top of SpongeBob.

To make Plankton I followed the same basic procedure I used to make SpongeBob with the exception of covering the cardboard box with green crafting foam before putting on the colored felt. I used swim noodles covered in green felt w/ zip ties defining sections to make Plankton's tentacles. Gabriela wore this costume and I cut the eye hole and are holes to fit her. I covered the eye hole with yellow netting so she could see and breath.

Squidward was challenging. For his head I started with a bucket which I covered in grey flannel. I then crafted the top of his head out of cardboard and covered it in grey flannel and glued it around the bucket. I used black foam pieces for the air holes on the top of his head. My son was Squidward so I cut eye holes to fit his face and used cardboard covered with yellow flannel for around the eye holes. I used cardboard to make his nose. I found the polo shirt at a second hand store for $1 and he wore one of his old tee shirts underneath to which I sewed on Squidward's arms/hands. For his pants I found 2 pairs of "leggings" on sale for $3 at WalMart and sewed these together. In the back pair I used swim noodles to make fake legs. I crafted the shoes out of cardboard and covered them with flannel.

Next I made Sandy which was worn by my daughter. I went to a local barrel store and bought a barrel with a lid for $10. I glued white fake leather to this for her white dress and glued on the patch and zipper. For the bubble I bought a outside street cover of Amazon and cut out a hole in the barrel lid which fit the opening of the cover. I glued on the flower and my daughter wore white leggings I got at Big lots for $3 and a white sweat shirt. I used blue and red tape for the lines around her arms.

Next I made Mr. Krabs which was the most challenging given the shape of his body. I wore this costume. I used a king size bed mattress topper and cut out the shape of his body front and back. I connect these with strips of the mattress cover to form the mold for the body. I then glued and stapled colored flannel to the frame to make his body/clothes. I cut the mouth and covered it with red netting and this is where I looked out and breathed. For his eyefs I used cut noodle foam covered in flannel. For his nose I used red pipe cleaners. For his hands I bought a very cheap ($11) pair of boxing gloves and covered them with red flannel. I had a red second skin I wore under the body for the arm and leg color. The costume turned out amazing.

The last costume I made was Patrick which would be worn by my son's friend who is a football player and very tall. I used 1/2" foam board insulation to cut out the shape of the body front and back. I used strips of the same to connect the front and back and make the frame. I covered it in pink flannel and made his mouth, eyes, etc. I cut out the eyes and used netting and this is where he looked out and breathed. He wore a pink second skin ($14) underneath for the arm and leg color and my friend sewed a pair of green flannel shorts to match the shorts on the body frame.